As we discussed earlier this year when we identified the veteran players eligible for contract extensions, the limits imposed on veteran extensions by the NBA's Collective Bargaining Agreement make such deals rare. Teams are afforded plenty of cap flexibility to finalize rookie-scale extensions for fourth-year players, but that same flexibility doesn't exist for veteran extensions.
While the league's new CBA is expected to reduce this figure, players currently have to wait for three full years after signing their contract to renegotiate and/or extend it. Most veteran NBA contracts don't run for more than three years to begin with, which means the pool of players eligible to extend their deals are small.
Additionally, even players who are eligible for a veteran extension often choose to wait until free agency, since there is little incentive to complete an extension early. Over-the-cap teams can extend veteran contracts, but can't accommodate significantly renegotiated salaries for the current season — a club must have the cap room necessary to give a player a big raise in 2016/17. Plus, veteran extensions can cover no more than three new seasons (four total).
So, for a player like Blake Griffin, who is extension-eligible in the final year of his contract, it doesn't make sense for him to re-up now with the over-the-cap Clippers. Even if he wants to re-sign with Los Angeles, he would be eligible for more years and larger salaries if he waits until next July to work something out with the team.
In other words, for a player to be a realistic candidate for a veteran contract extension before next summer, he must meet one of the following criteria, in addition to having signed his current deal at least three years ago:
His team has sufficient cap room to give him an immediate raise. This applies to guys like Russell Westbrook and James Harden, who added an extra year or two to their deals earlier this summer in exchange for getting a big pay bump in 2016/17.
He won't receive a major raise in free agency anyway. Given the rising salary cap, this doesn't apply to many players in their prime, but guys nearing the tail end of their careers could be happy to settle for a small raise rather than rolling the dice on a bigger payday in free agency.
With those criteria in mind, let's take a look at five players who are viable candidates for veteran extensions in 2016/17…
Derrick Favors (Jazz)
Contract: $11,050,000 salary in 2016/17; UFA in 2018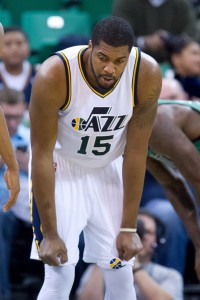 Favors is perhaps the most obvious extension candidate on our list. The Jazz are still below the salary floor, meaning the team has more than enough cap room to give him a raise all the way up to the maximum. Favors is also still two years away from free agency, so the opportunity to get significant pay increases for the next two years should make him very willing to add a couple more years of team control for Utah.
Still, this is no lock to happen. The Jazz won't be overly motivated to simply hand Favors a maximum salary when there's no pressure to do so quite yet, so he'd probably have to take a little less for the team to pull the trigger. If he wants a short-term raise, it makes sense to go for it. If he wants to wait another year, he'd be eligible for a higher max in 2017/18, and the Jazz might feel a little more pressure to get something done at that point, since it'd be a contract year for the big man.
George Hill (Jazz)
Contract: $8,000,000 salary in 2016/17; UFA in 2017
Of course, the Jazz's talks with Favors are also complicated by the fact that the club has another strong candidate on its roster for a renegotiation and extension. Hill hasn't been with the team for very long, but he's made a great early impression. If Utah isn't confident in handing the reins to Dante Exum next fall, reaching a new agreement with Hill would make a lot of sense.
As is the case with Favors, the Jazz have more than enough cap flexibility to offer Hill a big raise right away. However, the team's current cap room (about $14MM) won't be enough to accommodate significant renegotiations for both players. If each of them have interest in getting something done during the season, Utah would have a choice to make, and I imagine the team would lean toward Favors.
Paul George (Pacers)
Contract: $18,314,532 salary in 2016/17; Can opt out in 2018
I took a more extensive look at George's situation back in September, so I won't spend long re-hashing those points. As I explained at that time, the Pacers would be happy to get a max deal done sooner rather than later, but there are pros and cons for George, so it will come down to what he wants.
It certainly wouldn't be a bad choice for George to sign a deal immediately if he wants to secure an immediate raise – which the Pacers have the cap room to give him – and shut down any speculation about a possible departure from Indiana. But there are reasons why it makes sense to wait too, and with the team off to a sluggish start, it seems that's what he'll do for now.
Derrick Rose (Knicks)
Contract: $21,323,252 salary in 2016/17; UFA in 2017
Rose is the first player on our list whose team is over the cap, meaning he wouldn't get a raise this season if he were to work out a new deal with the Knicks. Still, he's already on a maximum-salary contract, and even though he'll be eligible for a much higher max next season (approximately $29MM based on current cap projections), there's certainly no guarantee he'll get those kind of offers on the open market.
The Knicks haven't had a reliable, long-term starter at point guard for quite some time, so if things go well with Rose this year, they could make an effort to lock him up before he reaches free agency. The team could offer up to three additional years, with a 2017/18 starting salary worth up to nearly $23MM.
Ersan Ilyasova (Sixers)
Contract: $8,400,000 salary in 2016/17; UFA in 2017
It's absolutely premature to consider Ilyasova an extension candidate in Philadelphia. The veteran power forward has been traded four times since signing his current contract, suggesting teams are more likely to move on from him than to want to lock him up.
Still, indications out of Philadelphia when the Sixers acquired Ilyasova last week were that they like how he fits on their roster, providing some much needed outside shooting and helping the club stretch the floor. In his first four games with the Sixers, he has averaged 12.8 PPG and shot 42.1% from three-point range — the sample size is minuscule, but those would be his best averages since 2012/13.
If Ilyasova continues to play well as a Sixer, a contract like the three-year, $30MM deal signed by Mirza Teletovic this summer looks like a reasonable goal for him, and Philadelphia could certainly afford something like that. It's more likely that they'll let him reach free agency, but if they like what they see this season from Ilyasova, the 76ers could at least explore what sort of deal it would take to keep him off the market.
Photo courtesy of USA Today Sports Images.