Donatas Motiejunas's free agency was already an unusual case before Tuesday, stretching out more than five months and extending well into the regular season. The saga finally appeared to be coming to an end within the last few days. Motiejunas signed a four-year offer sheet with the Nets, giving Houston 72 hours to match it, and the Rockets did just that, exercising their right of first refusal on Monday.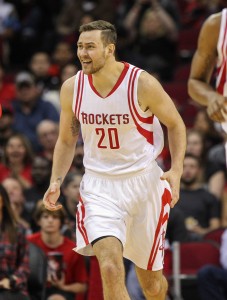 However, in order to finalize the new deal with the Rockets, Motiejunas had to report for a physical within the next 48 hours. That exam was scheduled for Tuesday morning, but the 26-year-old was a no-show, with his agent confirming to Jonathan Feigen of The Houston Chronicle that his client wasn't reporting to the Rockets.
"We're not going to show up. We'll see what happens. We'll see what the Rockets do," agent B.J. Armstrong told Feigen. Speaking to ESPN, Armstrong added, "We know our rights. We don't have a problem with the Rockets at all. We understand the rules fully."
Motiejunas' stance is an unusual one, since the CBA's rules regarding restricted free agents and offer sheets are clearly laid out. The Rockets are reportedly in touch with Motiejunas' camp to discuss potential options, and the veteran power forward still has time to report to the team, but at this point it's not clear exactly what the next step will be for either side.
With some help from CBA expert Larry Coon, here are a few ways the situation could play out:
1. Motiejunas reports to the Rockets for his physical later today.
Perhaps the Rockets and Motiejunas' reps will be able to sort through their differences and find some common ground today, paving the way for the forward to rejoin the team. It would be an abrupt about-face for Motiejunas and his camp, but considering he doesn't have a ton of leverage, it might be his best move.
2. Motiejunas doesn't report, but the Rockets keep their right of first refusal notice in place.
If the standoff between the two sides continues, it won't have a significant impact on the Rockets, who have worked players like Sam Dekker and Montrezl Harrell into their rotation in Motiejunas' absence. The Rockets won't have to pay Motiejunas if he doesn't report to the team, so they may simply be satisfied to wait out the situation, leaving the contract on the table for Motiejunas to finalize whenever he's ready.
In this scenario, D-Mo would be stuck in limbo, unable to sign a new offer sheet with another team. As Coon points out, the CBA suggests Motiejunas also wouldn't receive credit for a year of service if he "withholds playing services called for by a Player Contract or this Agreement for more than thirty (30) days after the Season begins." In other words, he can't just wait out the situation in the hopes of reaching unrestricted free agency next year.
3. Motiejunas doesn't report, the Rockets withdraw their first refusal notice, and Motiejunas signs an offer sheet with a new team.

It's possible that this is the outcome Motiejunas and Armstrong are hoping for, but there isn't a ton of upside here. It took the former first-round pick five months to find a suitable offer sheet, and if the Rockets decide to return him to the market as a restricted free agent, he won't be able to ink another deal with the Nets, who would be ineligible to sign him for one year. That means he'd be in the same situation as he was before, but one prime suitor with cap room would be out of the equation.
According to Calvin Watkins of ESPN.com, multiple sources indicate there was one other team in serious talks with Motiejunas before he signed the Nets' deal. However, Brooklyn's offer was more attractive than the one he received from that other team, and if the Rockets were willing to match this one, it seems likely they'd be willing to match the next offer he gets. It's also worth noting that the Rockets would have little reason to let Motiejunas return to the RFA market if they believe there's a chance he could get a better offer than his current one, since it would put them on the hook for more money.
In this scenario, Motiejunas would have until March 1 to sign a new offer sheet. After that, he'd have to work out a deal with the Rockets or he'd be on track to return to restricted free agency in the 2017/18 league year.
4. Motiejunas doesn't report, the Rockets withdraw their first refusal notice, and Motiejunas and the Rockets work out a new deal.
The two sides were unable to compromise on a contract for months, but perhaps now that Motiejunas' camp knows what kind of deal Houston is willing to match, negotiations would be simpler. Still, the terms of the Nets' offer sheet were fairly reasonable for the Rockets, and it's unclear why the team would be motivated to work out something new unless Motiejunas' camp provided some incentive to do so.
5. Motiejunas doesn't report, the Rockets withdraw their first refusal notice, and Motiejunas signs with a team overseas.
The possibility of signing with team in Europe or Asia has always been on the table for Motiejunas, but again, it doesn't offer much upside. He would likely be hard-pressed to earn the kind of money overseas that he could in the NBA, and his restricted free agent status wouldn't go away if he spent a year or two away from the NBA — he'd still be under the Rockets' control as an RFA if and when he wanted to return.
6. ???
It's possible that there's a scenario Motiejunas and Armstrong have in mind that we've missed, but it's not clear what "rights" the agent has referring to, since the CBA's language on RFAs – which was collectively bargained and agreed to by the players' union – doesn't leave much room for interpretation. The player's leverage in the system is limited.
My best guess at this point is that Motiejunas is willing to wait things out. If the Rockets return him to restricted free agency, perhaps he'll pursue an offer sheet with the mystery team that was vying with the Nets for his services. If Houston leaves its first refusal notice in place, Motiejunas could report to the team and finalize his deal later in the season.
What do you think? How will things play out for Motiejunas and the Rockets?