Welcome to Hoops Links. My name is Austin Kent. If you're one of the many who realize that today is Thursday and not the weekend, you'll already have noticed that we're doing things a little bit differently here.
We love the NBA blogosphere. I may have personally mentioned it about a thousand times already. To prove it, we decided to change how we feature content that comes to us from bloggers across the internet.
What you'll see below are 10 of our favorite original content pieces from around the internet. Some were user-submitted; some we went out and flagged ourselves because we enjoyed them so much.
I urge everybody reading this to make note of the next great article they read and send it to me for possible inclusion in next week's Hoops Links post (even if that brilliant author is you).
You can get at me on Twitter 24/7 @AustinKent or send your tips to HoopsRumorsTips@Sports.ws. Obviously we don't have room to include everything that gets sent our way, but unique, genuinely interesting content generally tends to find its way in front of an audience.
---
The Pistons played their last game in the Palace of Auburn Hills last week and Sports on Earth's Will Leitch was there to document it while enjoying a totally normal vacation to Michigan in April. If you're looking for a nostalgia-soaked ode to the awkwardly suburban masterpiece, this isn't it. Leitch's account of the facility's NBA finale is as emotionless and firmly entrenched in regular old depressing reality as the entire past decade has been for the Pistons organization.
Rating: 7 out of 10 Dancing Ushers.
Author: Will Leitch – @WilliamFLeitch
Link: Pistons' last game at the Palace of Auburn Hills
---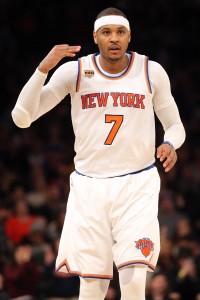 It wasn't long ago when Carmelo Anthony's wife was in his ear convincing him to request a trade out of Denver to a bigger market. Now that the pair have split up, some are wondering if the Nuggets should make an effort to reacquired their former All-Star. Matthew Huff of Nugg Love says not to expect it. Or want it, really.
Rating: 7 out of 10 Cheerios
Author: Matthew Huff – @Huff_Melo7
Link: Carmelo Anthony should not return to Nuggets
---
The Raptors organization has made countless questionable additions over the course of the past two decades, but only a handful have stood the test of time as constant reminders of unadulterated disappointment. Over at Raptors HQ, Mitch Robson facilitated a 64-man tournament to determine which player was the least popular of them all. Nobody holds a grudge like a Raptors fan.
Rating: 9 out of 10 National Primo Pasta Endorsements
Author: Mitch Robson- @_MitchRobson
Link: The most unpopular Raptors of all time
---
There was a notable discrepancy in fouls calls between the Grizzlies and Spurs when the two collided for Game 2 of their first-round series this week and Memphis head coach David Fizdale wasn't afraid to make a scene about it. The thing is, the Grizzlies actually do foul a lot. Especially when compared to San Antonio. Please forward all ire and thrown tomatoes at Michael Erler of Pounding the Rock and not me.
Rating: 7 out of 10 Warnings That Memphis Fans Shouldn't Read This
Author: Michael Erler
Link: Grizzlies average more fouls than Spurs
---
We've all heard by now that Kobe Bryant obsessed over ways of stopping Allen Iverson. Anthony Irwin of Silver Screen and Roll has come through with the video evidence to show just what the Mamba might have learned whilst studying. Seeing the legends square off in their early twenties is a joy to watch, and not just because you will immediately get the NBA on NBC theme song stuck in your head.
Rating: 8 out of 10 CRT Television Sets
Author: Anthony Irwin – @AnthonyIrwinLA
Link: How Kobe Bryant defended Allen Iverson
---
There's a fine line between modest transgression and outright corruption, and professional sports organizations would be wise to tread carefully to avoid either. Kenyon Redfoot of Unsung Zeroes recently wrote about how player agents should steer clear of compensating prospective clients to persuade them to sign with their agencies for fear of committing commercial bribery.
Rating: 6 out of 10 Bitter Realizations That I Retained Nothing From My Own Sport Law Lectures
Author: Kenyon Redfoot – @KenyonRedfoot
Link: Commercial bribery between NBA players and agents
---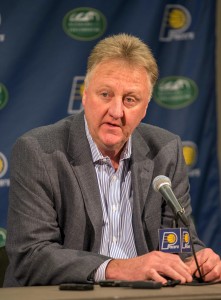 In a matter of two years, the forecast for the Pacers franchise dimmed considerably. Chris Wooden of Sir Charles In Charge wonders if Larry Bird ruined things by making too many reactionary moves and not thinking about the big picture. Had Indiana retained Frank Vogel and George Hill, might the team stand a better chance of making its first-round matchup with the Cavaliers competitive?
Rating: 6 out of 10 Nate McMillan Playbooks
Author: Chris Wooden – @SDChrisWooden
Link: Larry Bird's impact on Pacers
---
Consider David Fizdale's rant about the lack of respect his Grizzlies get from the officials an all-timer. So says Ball Don't Lie's Kelly Dwyer, who breaks down the fiery post-conference monologue and the impact it's already had. As Dwyer notes, Grizzlies players – appreciative of Fizdale's lobbying on their behalf – agreed to pay their bench boss's $30K fine.
Rating: 7 out of 10 Data
Author: Kelly Dwyer – @KDOnHoops
Link: David Fizdale's post-game rant
---
It's hard to determine whether the Celtics have been underachieving in the postseason or whether the Bulls have been punching above their weight — that's part of what makes the NBA postseason so special. Andrew Tobolowsky of The Step Back argues that it could very well be a little bit of both.
Rating: 8 out of 10 Playoff Rondos
Author: Andrew Tobolowsky – @AndyTobo
Link: Bulls-Celtics series analysis
---
There are plenty of cases where player comparisons between draft prospects and existing NBAers don't hold much weight, but that's not the case with De'Aaron Fox. Kevin Rowley of The Sixers Sense explained how Fox fits the bill as another Elfrid Payton, and says that's exactly why the Sixers should avoid the temptation to draft him this June.
Rating: 7 out of 10 Ping Pong Balls
Author: Kevin Rowley
Link: Sixers should not draft De'Aaron Fox
---
Photos courtesy of USA Today Sports Images.