Paul Pierce has signed a contract with the Celtics in order to officially retire as a member of the franchise, the team announced today in a press release. Within the release, Celtics governor Wyc Grousbeck said that he looks forward to seeing Pierce's number "raised to the rafters of TD Garden."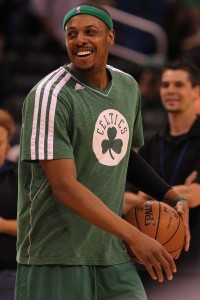 "It's an honor to have this opportunity to once again call myself a Boston Celtic," Pierce said in a statement. "The organization and city took me in and made me one of their own, and I couldn't imagine ending my career any other way. I'm a Celtic for life."
Pierce, who won a championship with the Celtics in 2008, announced last September that the 2016/17 season would be the last of his illustrious career. He was waived by the Clippers in late June for bookkeeping purposes after they reached an agreement with the Rockets on the blockbuster Chris Paul trade.
Pierce began his career in Boston in 1998 and remained there until 2013, when he was traded to the Brooklyn Nets during the offseason. He spent one season there and another with the Wizards before heading out West. He played two seasons with the Clippers and appeared in 25 regular-season and seven postseason games in his final campaign.
In 1,343 career games, the shoo-in Hall of Famer averaged 19.7 PPG, 5.6 RPG and 3.5 APG. He also appeared in 170 postseason games, finishing with a slash line of 18.7/5.8/3.4.
Photo courtesy of USA Today Sports Images.