Mid-to-late August is typically a quiet period on the NBA's offseason calendar, but Celtics president of basketball operations Danny Ainge and new Cavaliers GM Koby Altman certainly weren't on vacation this week, having reached an agreement today on a blockbuster deal that will send Kyrie Irving to Boston. In exchange for Irving, the Cavaliers will receive Isaiah Thomas, Jae Crowder, Ante Zizic, and the Nets' 2018 first-round pick (unprotected).
Here's a breakdown of some of the current and future salary cap and luxury tax implications of the swap between the Eastern Conference's top two contenders:
How salary-matching works in the deal: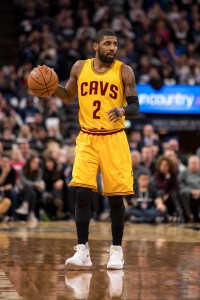 According to Basketball Insiders, the salaries changing hands in the trade are as follows:
To Celtics: $18,868,626 (Irving)
To Cavaliers: $6,796,117 (Crowder); $6,261,395 (Thomas); $1,645,200 (Zizic)
In total then, the Celtics are sending out $14,702,712 and taking back $18,868,626. Since the Celtics are a non-taxpaying team, they're allowed to take back their outgoing salary plus an extra $5MM in this deal. Simply sending Crowder and Thomas to Cleveland wouldn't have been enough, since those two salaries only total $13,057,512, which doesn't get them to within $5MM of Irving's figure. Adding Zizic allows the C's to surpass that threshold.
How the Cavaliers will use a traded player exception and create a new one:
Heading into Tuesday, the Cavaliers had three traded player exceptions at their disposal. Those three TPEs were worth $4,837,500, $2,194,500, and $980,431. Trade exceptions can't be combined with one another, so Cleveland can't use any of those TPEs to absorb Crowder or Thomas — both of their salaries are a little too big. However, the Cavs can – and likely will – use that $2,194,500 TPE to acquire Zizic.
Having applied an existing trade exception to Zizic, that means that the Cavaliers are sending out Irving's $18,868,626 salary and taking back $13,057,512 in Crowder and Thomas. The difference between those totals is $5,811,114, which is the amount of the new traded player exception generated by Cleveland in the deal. The Cavs will have one year to use that TPE.
How Irving's waived trade kicker affects the Celtics' cap situation:
Irving had a 15% trade kicker that would have added an extra $5,845,172 to his contract — 15% of his total salary for the remaining two years on his deal. However, if that kicker had taken effect, the Celtics would have had to include even more outgoing salary in the deal in order to meet the CBA's salary-matching requirements.
The CBA allows Irving to waive that kicker if he so chooses, and his willingness to do so – a decision that will cost him several million dollars – is a strong signal that he wanted out of Cleveland by any means necessary.
How the deal clears up the Celtics' roster logjam:
The Celtics had been the only NBA team with 16 players on guaranteed salaries under contract. Having sent out three of those players in their deal for Irving, the C's have sliced that number to 14, giving the club the flexibility to go out and sign another player to a guaranteed contract.
Based on reported signings, the Celtics had also reached their offseason roster limit of 20 players, but now should have two openings to fill.
How the swap will impact the Cavaliers' projected tax bill:
With 15 players (13 guaranteed) under contract before the Irving deal, the Cavaliers had a team salary of $142,055,672, per Basketball Insiders. Cleveland is a repeat taxpayer, so the club will face more punitive luxury tax penalties in 2017/18 — the projected tax bill for that team salary would have been nearly $79MM.
However, not only did the Cavs shed $4,165,914 in salary in their trade with the Celtics, but they'll also now likely waive Kay Felder's and Edy Tavares' non-guaranteed contracts at some point, since they picked up two extra guaranteed contracts in today's deal.
If Felder and Tavares are waived, the Cavs would trim their team salary to $135,562,294. The projected tax bill on that amount would be about $49.26MM, nearly $30MM lower than Cleveland's previous projection.
What the next contracts will look like for the four players involved in the deal:
Irving will be eligible for a contract extension, but the Celtics' ability to give him a market-value raise via extension or renegotiation will be extremely limited as long as the team remains over the cap. It's more likely that Irving will become eligible for unrestricted free agency in the summer of 2019 — he can opt out of his contract at that point. Boston will hold his Bird rights, giving the team the ability to offer him five years and 8% annual raises, while other teams could only offer four years and 5% raises. Irving would be eligible for a maximum contract worth 30% of the cap.
Thomas, who will reach unrestricted free agency in 2018, will also be eligible for a maximum contract worth 30% of the cap, and the Cavaliers will hold his Bird rights. The Eastern Conference's reigning scoring leader has made some noise about seeking a max deal when he hits the open market, but his recovery from a hip procedure and his performance this season in Cleveland will go a long way toward determining whether that kind of offer will be out there for him. With LeBron James' contract also set to expire next summer, it remains to be seen whether James and/or Thomas will stay in Cleveland for the long term.
As for the other players headed to Cleveland, the Cavs will have them on affordable salaries for the next few years. Crowder's deal runs through 2019/20 and is worth less than $22MM in total. He'll be an unrestricted free agent in 2020. Zizic, meanwhile, just signed his rookie contract and will be extension-eligible in the 2020 offseason, assuming his third- and fourth-year team options are exercised. If he's not extended, he'd be eligible for restricted free agency in 2021.
How future drafts will be affected by the inclusion of the Nets' 2018 pick:
The Cavaliers had previously traded their 2019 first-round pick to the Hawks. That prevented Cleveland from trading its own 2018 first-round pick in any deal, since teams can't deal future first-round picks in back-to-back years.
With Brooklyn's 2018 pick now in hand though, the Cavaliers are once again free to move their own '18 first-rounder if necessary. Of course, if the Cavs want to make an even bigger splash, they could also flip that Nets' pick — they'd just need to hang onto their own selection (or acquire a separate '18 or '19 pick) to ensure that they still have at least one first-rounder in the next two years.
As for the Celtics, they'll lose the potential crown jewel of their draft-pick stash, but they're still well-stocked. Boston will acquire the Lakers' 2018 first-round pick if it falls between Nos. 2 and 5, and will get the Kings' or Sixers' 2019 first-rounder if that Lakers pick doesn't convey in 2018. The Celtics also have extra 2019 first-round picks from the Grizzlies and Clippers, along with all their own future first-rounders.
Photo courtesy of USA Today Sports Images.