Before the chair, before Grandpa Pierce, before DeAndre Jordan's infamous change of heart and the Emoji War that inspired it, there was Antonio McDyess. McDyess, obviously, but then of course French-Canadian ice hockey legend Patrick Roy, an impromptu charter flight across the southwest, dozens of unanswered pager calls and a good old-fashioned Rocky Mountain blizzard.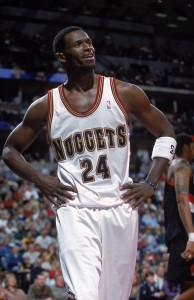 In January 1999, a 24-year-old with jetpacks for calves and long sinewy arms found himself at an emotional fork in the road. Fresh off of his third season in the NBA and his first in the desert, Suns power forward Antonio McDyess had the choice between re-signing with the team he just won 56 games with or returning to the basement-dwelling franchise that shipped him out of town less than 18 months prior.
After playing his first two seasons with the Nuggets and establishing himself as one of the most satisfyingly athletic big men in the game, McDyess enjoyed his first taste of team success following his arrival in Phoenix. The trade that sent him from Denver to the Suns prior to that 1997/98 season was precipitated by the fact that McDyess and his representative, Arn Tellem, were seeking a six-year, $100MM contract extension back when the club's front office refused to go any higher than $70MM.
"I guess they had no choice but to trade me," he said at the time, adding shortly thereafter that he didn't think there was any possible way he would return to the Nuggets when he hit free agency seven months later.
Of course it was seven months later when things got unprecedentedly interesting.
When the NBA revealed that the lockout had ended and there would be an abbreviated 50-game 1998/99 season, basketball fans the world over braced themselves for a whirlwind free agency period in the middle of January. It was during this frenzy that McDyess flipped and then flopped and then, assuming he's only human, broke down in tears at a Calgary Flames game while clutching a Hall of Fame goaltender's hockey stick. Just go with it, trust me.
While the quote above – and another from the same Deseret News piece calling the idea of McDyess returning to Denver "the biggest fib" he'd heard this year – may have done a good job of accurately depicting what was in his head at the time, it didn't account for what would come next.
From various interviews over the years, we can piece together that McDyess initially opposed the idea of returning to the Nuggets because they traded him, but ultimately soured on a return to Phoenix because he felt the Suns didn't feature him enough in their offense.
At that point, nearly a year after saying that he had no intention of returning to Denver, McDyess and Nuggets general manager Dan Issel zeroed in on a deal that would see him return to Colorado. Just when the club was set to announce that it would be bringing McDyess back on a new long-term deal, however, the forward got cold feet and cancelled the press conference.
Back in 1999, Sports Illustrated's Jackie MacMullan wrote that McDyess' doubts about returning to Denver were fueled by the fact that the Nuggets would be forced to renounce the rights to LaPhonso Ellis, a teammate and close friend of McDyess' during his first tenure with the club.
Turned off by the realization that he wouldn't get the chance to play with Ellis, McDyess started questioning the decision to sign the deal altogether and ultimately called Jason Kidd, Phoenix's starting point guard of the day, to express his reservations. Kidd, 25 years old at the time and fresh off of his first full season with the Suns, in turn rallied teammates George McCloud and Rex Chapman to join him on a Colorado-bound private jet in order to meet with McDyess face-to-face and convince him to fully back out of the decision and return to Phoenix.
As MacMullan wrote back in 1999, when Issel heard that a convoy of Suns teammates were coming to try and change McDyess' mind, he brought the power forward to McNichols Arena for an NHL game between the Colorado Avalanche and visiting Calgary Flames.
"If Antonio had left that arena without some kind of handshake deal, we were in trouble," he told MacMullan.
So serious were the Nuggets about getting a commitment that night that when they learned that the free agent's favorite player was Avs goaltender Patrick Roy, they introduced the two prior to puck drop, a meeting from which the forward is said to have come away with one of the goaltender's sticks.
Eventually Issel and McDyess made their way up to a private box prior to Kidd and company's arrival at the arena. When the Suns teammates, desperate to connect with McDyess, they were railroaded by security who, per Chapman, went so far as to tell them that McDyess had specifically said to "beat it."
Pressed by Chapman, the security guard admitted that he was just parroting what he had been instructed to say but the wheels were in motion.
McDyess and Issel were ultimately joined in the private box by head coach Mike D'Antoni and guard Nick Van Exel (who drove through a blinding snowstorm from their training camp facility in Golden Springs just to be there) and any lingering doubts that McDyess had about returning to Denver were assuaged. Within 24 hours, the six-year, $67.5MM deal that would stretch 2003/04 season was announced by the organization.
The trio of Suns players eager for one last chance to retain their explosive, young teammate never did make contact. Would history have unfolded differently if they had?
"I probably would have been more confused than ever," McDyess said.
Photo courtesy of USA Today Sports Images.