We're still nearly eight months away from the start of the NBA's 2018 free agent period, but next year's free agent class has taken a significant hit within the last month or so.
Since we published our initial 2018 free agent power rankings in mid-September, several top free-agents-to-be have signed contract extensions, with Russell Westbrook, Andrew Wiggins, Joel Embiid, and Gary Harris among the players coming off the board. All four of those guys were in our top 10 last time around.
As such, the newest installment of our free agent power rankings for 2018 will look a little different, and not just because the players who inked extensions are no longer on our list. Early-season performances and injuries will play a role in our rankings, and we're making a couple extra players eligible for the list this time around.
One is Nikola Jokic, who has a $1.6MM team option for 2018/19. We typically don't include players with team options or non-guaranteed salaries in our free agent rankings, since their teams are expected to just pick up those options, keeping them off the free agent market. But in the Nuggets' case, it actually might make sense to turn down Jokic's option — if they do that, he'll be a restricted free agent. If they exercise the option, Jokic would be eligible for unrestricted free agency the following year.
The other newly-eligible player on our list is Robert Covington, who technically doesn't show up yet on our 2018 free agents list. We avoid moving players with non-guaranteed 2017/18 salaries to subsequent free agent lists until their salaries become guaranteed. In Covington's case though, that's a mere formality. He'll become a free agent in '18 unless the Sixers extend him before then.
As usual, our list reflects each player's current expected value on the 2018 free agent market, rather than how we think they'll perform on the court for the 2017/18 season. For instance, an older player like J.J. Redick has solid short-term value, but didn't make our top 20 because he's unlikely to sign a huge multiyear deal next summer. In other words, age and long-term value is important.
Without further ado, here's the second edition of our 2018 free agent power rankings: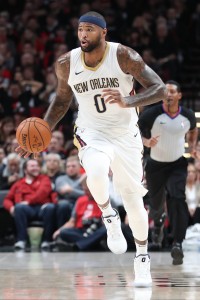 Although his team is struggling to start the season, James remains a dominant force. Yet he has looked mortal in recent weeks, slowed in the preseason by an ankle injury and unable to will the Cavaliers to wins against opponents they should beat. The door is open for Durant to take over the No. 1 spot at some point during the season, though the distinction between the top two shouldn't matter much.
Meanwhile, Cousins is off to a monster start in New Orleans, and while I still think George's two-way ability and Jokic's age make them slightly more valuable assets, Cousins may force my hand and make me bump him into the top three if he keeps playing like this (30.1 PPG, 13.0 RPG).
Chris Paul, G, Rockets
Aaron Gordon, F, Magic (RFA)
DeAndre Jordan, C, Clippers (player option)
Jabari Parker, F, Bucks (RFA)
Avery Bradley, G, Pistons
Paul slips out of the top five this time around, and is in danger of falling further as the season progresses. If CP3 continues to battle injuries and doesn't adjust to the Rockets' pace and style of play as well as the team hopes, it's hard to imagine him getting a long-term, maximum salary contract next summer at age 33.
I may be overreacting to Gordon's hot start, but he's finally locked in at the power forward spot and has looked tremendous so far for Orlando, averaging 20.7 PPG and 8.7 RPG with a .561/.577/.739 shooting line. The former fourth overall pick is only 22 years old, and if he becomes a reliable three-point threat this season, he's going to be in line for a massive payday in 2018.
Parker's placement in this list is tricky — the fact that Andrew Wiggins signed a max extension buoyed my confidence in Parker getting a huge contract of his own in July, but that will hinge on him coming back strong from his ACL injury. For now, I'm betting on that happening.
Robert Covington, F, Sixers
Clint Capela, C, Rockets (RFA)
Jusuf Nurkic, C, Trail Blazers (RFA)
Zach LaVine, G, Bulls (RFA)
Isaiah Thomas, G, Cavaliers
Covington and Capela are somewhat overlooked on their respective clubs, perhaps dismissed as merely "role players." But they're terrific role players. Already a reliable defender, Covington has improved his three-point efficiency in the early going this season, making an impressive 3.4 threes per game at a 48.2% rate. He likely won't keep up that pace, but three-and-D specialists do very well in free agency and he's set to get a big raise.
As for Capela, his game isn't as well-rounded as you might like, and it remains to be seen if he'll ever be the sort of player who can average 30+ minutes per game. So far in 2017/18 though, the 23-year-old is averaging a double-double (13.3 PPG and 11.4 RPG), providing rim protection (1.6 BPG), and practically never missing a shot (.707 FG%).
Nurkic, LaVine, and Thomas all have the potential to jump into the top 10 by season's end, but LaVine and Thomas will have to get back on the court and show that they're fully healthy first. As for Nurkic, he has been plagued by injury issues throughout his career, but his main problem at the moment is that the Blazers have been a much more effective scoring and rebounding team with him off the court this season. Nurkic's stock will improve as those numbers do.
Danny Green, G/F, Spurs (player option)
Elfrid Payton, G, Magic (RFA)
Rodney Hood, G, Jazz (RFA)
Carmelo Anthony, F, Thunder (player option)
Kentavious Caldwell-Pope, G, Lakers
Like Covington, Green is playing the three-and-D role to perfection this year. After being named to the All-NBA Defensive Second Team last season, Green is knocking down a career-best 43.8% of his three-point attempts in 2017/18. He'll be 31 next July though, limiting his long-term earning potential.
Payton and Hood beat out the 33-year-old Anthony here due to their youth and their upside, but Carmelo may provide the better return on investment for the next year or two.
As for Caldwell-Pope, he remains a confounding player to evaluate. After an impressive sophomore season in 2014/15, he showed few signs of improving his production during his ages 22 and 23 seasons in Detroit, and his age-24 season in L.A. has been no different to date. KCP is young enough that a breakout could still be coming, but for the time being, it may be hard to justify a substantial long-term investment in him.
Photos courtesy of USA Today Sports Images.