NBA rosters will undergo some changes over the course of the 2017/18 season, particularly around the trade deadline, and those changes may have an impact on teams' cap sheets for future seasons. Based on the NBA's current rosters, however, we can identify which teams are most and least likely to have cap room in the summer of 2018, which will dictate the type of moves those clubs can make in the offseason.
We're taking a closer look at each of the NBA's 30 teams by division this week. Today, we're tackling the Central division. With the help of salary information compiled by Basketball Insiders, here's how the summer of 2018 is shaping up for the five Central teams:
Milwaukee Bucks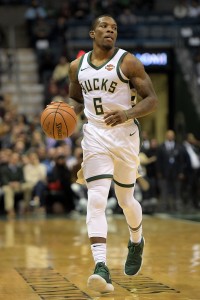 Guaranteed 2018/19 team salary: $104,034,259
Projection: Over the cap
The Bucks' recent acquisition of Eric Bledsoe, which added another $15MM to the team's books for next season, all but guarantees that Milwaukee won't have any cap space available in 2018. Moving another contract or two could change that, but if the Bucks intend to re-sign Jabari Parker to a long-term deal, they'll likely end up much closer to the luxury tax line than to the salary cap threshold.
Detroit Pistons
Guaranteed 2018/19 team salary: $101,685,313
Projection: Over the cap
The NBA's most recent salary cap projection estimated a $101MM cap for 2018/19, which would put the Pistons right around the threshold. Don't expect Detroit to try to sneak below that line and create space though — if they intend to re-sign Avery Bradley, the Pistons figure to remain well over the cap next summer.
Cleveland Cavaliers
Guaranteed 2018/19 team salary: $75,902,175
Projection: Up to approximately $21MM in cap room
Since LeBron James returned to Cleveland in 2014, the Cavaliers have spent more money than any other NBA team on player salaries and tax payments, so it's somewhat surprising to see the club with only $76MM in guaranteed commitments for 2018/19.
Of course, the only reason the Cavs' projected team salary is so modest is because James and his $35MM+ player option aren't included. Neither is Isaiah Thomas, another free-agent-to-be. And neither is Iman Shumpert, who seems like a good bet to exercise his $11MM player option. If any of those players return to the Cavs, the team's cap space will disappear quickly. If Cleveland actually ends up with $21MM in available cap room, the squad will look a whole lot different next season.
Chicago Bulls
Guaranteed 2018/19 team salary: $46,648,020
Projection: Up to approximately $43MM in cap room
The Bulls, who don't have many pricey long-term commitments on their books, could actually create up to about $52MM in cap room, but we're adding Zach LaVine's cap hold to their team salary, since the club has been adamant about re-signing LaVine, one of the key pieces of this year's Jimmy Butler trade.
Still, that leaves the Bulls with a ton of flexibility, as Nikola Mirotic's $12.5MM team option is the only other salary that could cut into the team's cap room significantly. Based on recent events in Chicago, it'd very surprising if that Mirotic is still a Bull at that price – or at all – a year from now.
Indiana Pacers
Guaranteed 2018/19 team salary: $39,913,044
Projection: Up to approximately $54MM in cap room
In order to get up to $54MM in cap room, the Pacers would have to move on from several key players from this year's squad. Bojan Bogdanovic, Darren Collison, and Al Jefferson all have partially guaranteed salaries. Thaddeus Young and Cory Joseph have player options. Lance Stephenson and Joe Young have team options. The odds that none of those players will be back are incredibly slim.
Even if the Pacers' available cap room is ultimately much more modest than the maximum figure suggests, the team is in a pretty good spot. The Thaddeus Young and Joseph contracts aren't toxic, and Indiana is in full control of all the other players with options or without full guarantees. That will give the Pacers the opportunity to retain the deals that are solid values and dump the rest.
Previously:
Photo courtesy of USA Today Sports Images.