As a result of Gordon Hayward's ankle injury, the Celtics were granted a disabled player exception by the NBA last week. Disabled player exceptions aren't used with nearly the same frequency as other salary cap exceptions, such as the mid-level or bi-annual, and the rules surrounding DPEs are a little more complicated than they are for most other exceptions.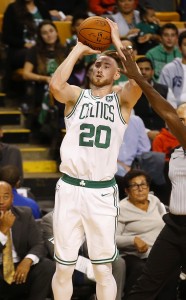 With that in mind, we're here to answer a few questions related to disabled player exceptions. We'll be taking a closer look at the Celtics' DPE specifically, in the hopes of clearing up any misconceptions about it and explaining exactly what Boston can and can't do with the new exception. Let's dive in…
Why did the Celtics receive a disabled player exception?
A team can apply for a disabled player exception when it has an injured player who is expected to miss the entire season. If an NBA-designated physician determines that the injured player is more likely than not to be sidelined through the following June 15, the league will grant the team a DPE.
In this instance, Hayward is considered likely to miss the rest of the 2017/18 season and to be out through June 15, so the Celtics were given a disabled player exception to replace him.
So the Celtics get an extra roster spot?
No. A disabled player exception is about cap flexibility rather than roster flexibility. The Celtics are still limited to 15 players on NBA contracts, but they're allowed to spend an extra $8.4MM to add a replacement for Hayward. If not for that exception, the over-the-cap C's would be limited to offering a minimum salary contract to a free agent.
Why is the Celtics' DPE worth $8.4MM?
A disabled player exception is worth 50% of the injured player's salary or the amount of the full mid-level exception, whichever is less.
For instance, last season, when Justise Winslow sustained a season-ending shoulder injury, the Heat applied for and were granted a disabled player exception. However, because Winslow was only earning $2.6MM, the exception was worth 50% of his salary — $1.3MM. As a result, Miami couldn't do much with that DPE.
Hayward, on the other hand, is earning $29.7MM in the first year of his maximum salary contract with the Celtics. Half of his salary would be nearly $15MM, but the value of a disabled player exception can't exceed the mid-level exception. This year, the full MLE is worth $8.406MM, so that's also the value of Boston's DPE.
Are there any free agents left worth $8MM?
Probably not. There are a few interesting names on the list of available free agents, but Boston could probably sign just about any of them for a minimum salary contract.
Still, if the Celtics are willing to be patient, it's possible their DPE could come in handy for a free agent addition later in the season. Each year, a few potential impact players are bought out after the trade deadline, and Boston's ability to offer up to $8.4MM to one of those players could be valuable.
Additionally, the disabled player exception doesn't need to be used on a free agent — it can also be used to acquire a player in a trade. The player must be in the final year of his contract, but as long as he's earning $8.506MM or less (the DPE allows for a $100K buffer in trades), the Celtics wouldn't have to send out any salary in a trade.
So a disabled player exception functions like a combo mid-level/traded player exception?
Sort of. It can be used to sign a free agent, like the mid-level exception, or to acquire a player in a trade, like a traded player exception. Also, like MLEs and TPEs, it can't be combined with another exception or a player's salary to increase its value. Still, there are a few differences that set the DPE apart.
For one, the disabled player exception can only be used once. Mid-level and trade exceptions can be used to acquire multiple players, but if the Celtics decide to use their DPE to trade for a player earning $3.4MM, they wouldn't still have $5MM left to use on someone else. The DPE would be gone.
Additionally, because the disabled player exception is intended to be a short-term solution to replace an injured player, a team can't use it to add a player for multiple seasons. If it's used to sign a free agent, he has to sign a one-year deal. If it's used to acquire a player via a trade, he has to have just one year left on his contract (or one year plus an option, if the option is declined as part of the deal).
If the DPE is designed to help a team replace its injured player, what happens if Hayward comes back this season?
If Hayward makes a miraculous recovery and returns to the court in April, with the Celtics having already used their DPE to add another player, that's great news for the team — Boston would be able to activate Hayward without the replacement player being affected.
Hayward's injury has already been deemed season-ending by the NBA. If it hadn't been, the Celtics' application for the disabled player exception wouldn't have been approved. If his diagnosis changes later, that's not a problem.
The only scenario in which a Hayward return would compromise the Celtics' ability to use the DPE is if he gets back on the court before the team has used the DPE and before it expires. Then they'd lose it.
And when does it expire?
March 10. If the Celtics haven't used it by that point, they lose it.
That date applies to all disabled player exceptions — teams have until January 15 to apply for a DPE, and until March 10 to use it.
So which players might the Celtics target with their DPE?
It's probably still too early to come up with a comprehensive list. The Celtics have adjusted well since losing Hayward and aren't in immediate need of reinforcements. They can afford to wait until closer to the trade deadline (February 8) – or even after the deadline, if they have their eye on a buyout candidate – to determine which player would be the best fit.
As the season progresses, more and more teams will fall out of contention and more players will land on the trade block. Additionally, the Celtics will have more time to assess which position is their greatest area of need.
Still, there are at least a handful of trade candidates already out there. Jahlil Okafor is the most popular name now that the Sixers have turned down his 2018/19 option. Young big men on rebuilding teams, such as Nerlens Noel and Alex Len, would be intriguing possibilities, though they have the ability to veto trades and would lose their Bird rights if dealt. If the Celtics are eyeing a wing, veterans like Corey Brewer and Vince Carter meet the necessary criteria.
Again though, it probably makes sense for the C's to wait and see how the season plays out. Many players – including a few listed above – aren't yet trade-eligible, and most teams aren't looking to deal quite yet anyway.
Have more DPE questions that aren't answered above? Ask away in the comment section below.

Photo courtesy of USA Today Sports Images.