It may be the end of an era in San Antonio, with Tony Parker headed for free agency and Manu Ginobili uncertain about playing another season. More troubling for the Spurs was Kawhi Leonard's 2017/18 season, which saw him appear in just nine games due to a lingering quad injury and has resulted in some apparent tension between the franchise and the superstar's camp. While Parker's and Ginobili's futures in San Antonio are up in the air, resolving the Leonard situation will be the Spurs' top priority this summer.
Here's where things currently stand for the Spurs financially, as we continue our Offseason Salary Cap Digest series for 2018:
Guaranteed Salary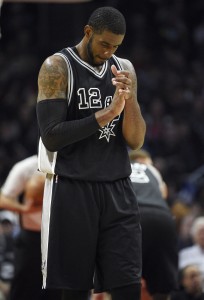 LaMarcus Aldridge ($22,347,015)
Kawhi Leonard ($20,099,189)
Pau Gasol ($16,800,000)
Patty Mills ($11,571,429)
Manu Ginobili ($2,500,000)
Tim Duncan ($1,881,250) — Waived via stretch provision
Derrick White ($1,667,160)
Dejounte Murray ($1,544,951)
Total: $78,410,994

Player Options
Team Options
Non-Guaranteed Salary
Restricted Free Agents
Kyle Anderson ($4,749,591 qualifying offer / $6,455,112 cap hold): Bird rights
Davis Bertans ($1,699,698 qualifying offer / $1,699,698 cap hold): Early Bird rights
Bryn Forbes ($1,699,698 qualifying offer / $1,699,698 cap hold): Early Bird rights
Total: $9,854,508
Unrestricted Free Agents / Other Cap Holds
Projected Salary Cap: $101,000,000
Projected Cap Room: $11,302,947

With so many player options and free agents to consider, the Spurs' projected cap room could change significantly – or disappear altogether – depending on who returns and who leaves. For our projection, we've counted the Spurs' seven guaranteed contracts, the cap holds for Anderson and the team's first-round pick, and cap charges for three empty roster spots. The result is a total team salary of $89,697,053.
That projection assumes that Green, Gay, and Lauvergne will all opt out, Paul will be waived, and all non-Anderson free agents – including Parker – will be renounced. That may not be realistic. If a couple of those players are back, the Spurs' cap room figures to dissipate quickly.
Footnotes:
Paul's salary becomes fully guaranteed after August 1.
Milutinov was the Spurs' 26th overall pick in 2015, meaning his cap hold is equal to the rookie scale amount for this year's No. 26 pick. That cap hold will be removed when it's officially determined that Milutinov won't sign with the Spurs for 2018/19.
Note: Rookie scale cap holds are estimates based on salary cap projections and could increase or decrease depending on where the cap lands.
Salary information from Basketball Insiders was used in the creation of this post. Photo courtesy of USA Today Sports Images.