The Thunder are in a unique position with a unique superstar and this upcoming summer will play a major role in how that ultimately plays out. Unsurprisingly, the team's short-term fate depends on where Paul George signs and that could very well depend on where LeBron James signs.
With a committed George, the Thunder boast one of the league's most intriguing cores and a front office with a rich history of landing major assets. Without him, it's not so much of a stretch to picture the club back in the lottery for the first time since 2015.
Carmelo Anthony, PF, 34 (Down) – Signed to a five-year, $124MM deal in 2014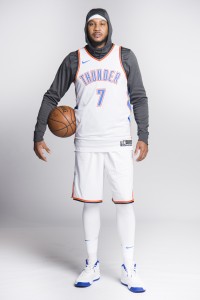 In less than a year, Anthony went from being a coveted veteran star to a radioactive presence with an albatross contract. The 33-year-old has an early termination option for 2018/19 but isn't about to wave goodbye to the $28MM season he's been eyeing up since he signed for it back in 2014. Anthony will be back in Oklahoma City next season and has already said that he has no desire to come off the bench. Godspeed, Thunder fans.
Corey Brewer, SG, 32 (Up) – Signed to a one-year deal in 2018
The Thunder added Brewer down the stretch as a replacement for the injured Andre Roberson. The perimeter defender not only subbed in admirably for Roberson, but carved out a role in the team's rotation heading forward should he decide to return. Brewer is coming off of a comfortable $24MM deal signed in 2015, so don't expect him to chase the biggest offer he can find if it looks like the Thunder will be able to remain competitive. That said, the club will need to offer more than the peanuts it got him for at the tail end of 2017/18.
Nick Collison, PF, 37 (Down) – Signed to a one-year, $2MM deal in 2017
For the past 15 years, Collison has been a part of the Thunder franchise and there's always seemed to be a mutual respect between he and the organization. While his days as a key rotation piece are in the rearview mirror, there's no denying that his presence in the locker room has had a positive impact on the team. The big man hasn't made a public decision regarding retirement at this point but it may be more likely than not. If Collison does decide to play in 2018/19, expect it to be announced well into free agency after the team's other dominoes have fallen.
Raymond Felton, PG, 34 (Up) – Signed to a one-year, $2MM deal in 2017
Few would argue that there will be a long list of teams fighting to sign Felton this summer but it's hard to consider his lone season in Oklahoma City anything less than a success. Felton proved that he can be an effective, cheap bit player for the Thunder, as evidenced by the 6.9 points and 2.5 assists per game he posted in just 16.6 minutes of action. Had he not performed as well as he did, there's no guarantee he'd even land another full-time gig.
Paul George, SF, 28 (Up) – Signed to a five-year, $92MM deal in 2014
While his first season in Oklahoma City could have gone better from a team perspective, George did little to obfuscate his case for a max contract. It seems inevitable that the star will head west to the Lakers but let's take the guy at his word if he says he's at least interested in the notion of returning to the Thunder. The franchise would be well equipped for the next half decade if they could lock George in with Westbrook and Steven Adams, but will that be enough to sway the California native? Wherever he goes, he figures to be earning the max allowable.
Jerami Grant, PF, 24 (Up) – Signed to a four-year, $4MM deal in 2014
Grant was a solid and intriguing depth piece for the Thunder this season, but may be one of the players most impacted by the team's tight finances. The former second-round pick will see interest from other teams this summer and while OKC could go over the cap to retain him, doing so would have serious luxury tax implications.
Josh Huestis, PF, 26 (Down) – Signed to a three-year, $4MM deal in 2015
Despite world-class athleticism, Huestis hasn't firmly established himself with the Thunder in three seasons. That being said, he saw consistent action for OKC in 2017/18 in limited minutes. Given that the team will have so much of its payroll tied up in a handful of players in 2018/19 and beyond, the unrestricted free agent could have some appeal as a dirt-cheap option already familiar with the system.
Photo courtesy of USA Today Sports Images.