6:10 pm: Pierce has reached an agreement with Atlanta to become the team's next head coach, the Hawks announce via press release.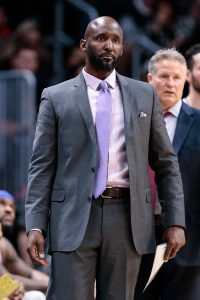 "As we set out to find a new head coach for our team, it was critically important to find a dynamic teacher who could connect with and develop our young core while instilling the culture and high standards we feel are necessary in a successful program," said Hawks GM Travis Schlenk. "Lloyd Pierce checks every box, and we couldn't be more excited to have him leading the Atlanta Hawks into the future."
Pierce said that he's been working toward this moment for a long time, adding that it's an honor to become the Hawks' new head coach.
"I have great respect for [Schlenk] and strong belief in his plan to bring a championship to the city of Atlanta. After spending time with ownership, it's clear they have a deep investment in and commitment to making this a model organization. This opportunity is a perfect fit for me, and I'm eager to get started," he said.
5:49 pm: The Hawks are closing in on a deal with Lloyd Pierce to make the Sixers' assistant their new head coach, Jordan Schultz of Yahoo Sports reports (Twitter link) and Marc J. Spears of ESPN.com tweets that the Atlanta will announce Pierce as its head coach on Monday.
The contract will contain three guaranteed years with a team option for the fourth, Adrian Wojnarowski of ESPN.com reports (Twitter link). Pierce had his third meeting with the club today.
Earlier today, we heard that Atlanta was likely to present Pierce a contract offer and on the surface, the pairing makes sense. Pierce has been with the Sixers organization since the 2013/14 campaign, spending several seasons on the sideline as the team went through their long rebuild. The Hawks are in the midst of a similar situation, though it's unlikely Atlanta's rebuild carries on for as many seasons as Sam Hinkie's Process did.
The Hawks mutually parted ways with Mike Budenholzer late last month and we heard rumblings that it had to do with the direction of the franchise. Budenholzer reportedly wants to be with an organization that's committed to winning and Atlanta appears to be more focused on talent development.
Pierce is open to the challenge of building a team from the ground up and he believes his time in Philadelphia will help him with the Hawks.
"The main reason is just looking at their young players," Pierce said earlier in the week. "They got four guys in the draft. They got a couple of young players that are on their roster. So what's most important when you are dealing with young players and young talent, it's the development and relational side of that. It's kind of my track record. It's anybody's track record of how do you communicate, how do you work with players, how do you develop, what does that mean?"
Photo courtesy of USA Today Sports Images.