While the NBA won't announce this year's award winners until late in June, we're making our picks for the year's major awards over the next two weeks.
The Hoops Rumors writing team has weighed in with our choices below, but we also want to know which players, coaches, and executives you think are most deserving of the hardware this season, so jump into the comments section below to share your thoughts.
We're keeping things going today with the award for Coach of the Year. Here are our selections:
Dana Gauruder: Brad Stevens (Celtics)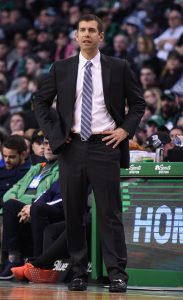 The Celtics designed their schemes around new acquisitions Gordon Hayward and Kyrie Irving, then lost one of them the first game of season. The other went down in the second half of the campaign, yet the Celtics are still going strong. They're always well-prepared and play consistently hard, regardless of who's available on a given night.
Arthur Hill: Quin Snyder (Jazz)
It's a virtual tie between Snyder and Indiana's Nate McMillan, who both led their teams to the playoffs after losing franchise players. The Jazz appeared headed for a major rebuilding project after Gordon Hayward left for Boston, especially with George Hill and Boris Diaw also departing. Snyder put his trust in rookie Donovan Mitchell and the team survived an early injury to Rudy Gobert before tearing through the league in the second half of the season. McMillan worked similar magic with the Pacers, who could have collapsed after trading Paul George. Both coaches turned in award-worthy performances, but Snyder gets a bonus point for doing it in the tougher Western Conference.
Austin Kent: Dwane Casey (Raptors)
While there are a few coaches who have helped squeeze every ounce of talent out of their players, none are more deserving of Coach of the Year than Casey. The Raptors head coach inspired a team of veterans to adapt their games in order to stay competitive in this league — and not a moment too soon.
With a roster largely unchanged from last season, Casey helped the Raptors improve their offensive and defensive ratings while finishing with their best regular season record in franchise history. If that wasn't enough, he did it while boosting the value of a suddenly vaunted second unit and modernizing Jonas Valanciunas' old-school game.
Clark Crum: Brad Stevens (Celtics)
The Celtics were expected to be where they are currently – in the playoffs and competing for the Eastern Conference crown – but the manner in which they got here is the reason Stevens should win this award. Prized free agent acquisition Gordon Hayward suffered a gruesome ankle injury that ended his season in the first game of the year. Kyrie Irving played only 60 games and is now out for the rest of the season after undergoing knee surgery. Reserve Daniel Theis also suffered a season-ending injury. Moreover, important contributors like Marcus Morris and Marcus Smart missed significant time with injury.
Yet, Stevens somehow managed to parlay all of that discord into the fourth-best record in the NBA, relying on rookie Jayson Tatum, second-year rising star Jaylen Brown, and out-of-nowhere Terry Rozier as key cogs to the Celtics' success. How? Defense. The Celtics led the NBA in defensive rating, leaning on Stevens' defensive principles throughout the season while relying on different personnel to provide offensive firepower without Hayward and Irving.
Luke Adams: Quin Snyder (Jazz)
There's no shortage of worthwhile candidates for the Coach of the Year award this season — I considered Dwane Casey, Brad Stevens, Brett Brown, Nate McMillan, Mike D'Antoni, and Alvin Gentry, among others, before eventually circling back to Snyder. The Jazz head coach got career-best performances from Ricky Rubio and Joe Ingles, found a way to make the Rudy Gobert/Derrick Favors frontcourt work, and trusted Donovan Mitchell with the keys to Utah's offense. He also seemed to get the most out of players whose potential hadn't been maximized in other situations – such as Jae Crowder – and no Western team had a better defensive rating than Snyder's Jazz.
Chris Crouse: Gregg Popovich (Spurs)
Popovich, who spent part of last offseason getting LaMarcus Aldridge to buy back into San Antonio's system, gets my vote. The Spurs won 47 games this season while dealing with uncertainty, distractions, and decline from many of their veterans. Brad Stevens and Quin Snyder, who has looked like a man in need of a nap all season, both deserve immense credit. They both run complex schemes and had to integrate some major additions into their game plans this season. One of the two will likely win the award, but my vote will go to Popovich every year until someone drastically out-maneuvers the three-time Coach of the Year winner — that didn't happen during the 2017/18 campaign.
Who is your pick for Coach of the Year? Share your choices and your thoughts in the comment section below!
Previously:
Still to come:
Most Improved Player
Sixth Man of the Year
Rookie of the Year
Defensive Player of the Year
Most Valuable Player
Photo courtesy of USA Today Sports Images.