JULY 6th, 5:18pm: The signing is official, according to a team press release.
JULY 2ND, 11:12 am: Free agent sharpshooter J.J. Redick has agreed to return to the Sixers, reports Adrian Wojnarowski of ESPN (Twitter link). According to Wojnarowski, Redick will sign a one-year deal in the $12-13MM range.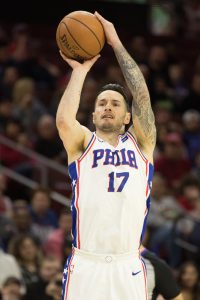 It will be the second consecutive one-year contract for Redick. In 2017, he received a $23MM deal from the Sixers, who had more cap room than they knew what to do with. This time around, with cap space at a premium around the NBA, the 12-year veteran will accept a more modest salary, albeit one still well above the mid-level.
[RELATED: 2018 NBA Free Agent Tracker]
In his first season with the Sixers, Redick – who celebrated his 34th birthday last month – provided exactly the sort of reliable outside shooting the team had hoped for, averaging 2.8 three-pointers per game a rate of 42.0%. In 70 games (all starts), he averaged 17.1 PPG, 3.0 APG, and 2.5 RPG.
With the 76ers out of the running for top free agents like LeBron James and Paul George, it made sense to shift their focus to Redick, whose new deal will eat into their available cap space, assuming the Sixers don't remain an over-the-cap team.
Taking into account Redick's new contract, the Sixers project to have about $14MM in cap room, according to ESPN's Bobby Marks (Twitter link). Marks also notes that the shooting guard will have the ability to veto any trades involving him during the 2018/19 league year.
The Sixers could further increase their cap flexibility by trading or stretching Jerryd Bayless, who is on an expiring deal worth just over $8.5MM. We heard on Sunday that the 76ers and Bayless were considering a buyout agreement.
Even after re-signing Redick, the Sixers figure to explore the free agent market in an effort to add more shooting. The team has already lost three-point marksmen Ersan Ilyasova and Marco Belinelli since free agency opened on Saturday night.
Photo courtesy of USA Today Sports Images.