When NBA teams sign undrafted free agents or second-round picks to contracts, those clubs need to have cap space or a mid-level exception available to lock up those players for longer than two years or to pay them more than the minimum salary.
While most teams make sure to earmark some cap room or a portion of their mid-level exception to use on those players – particularly second-rounders – that's not always the case. The Grizzlies, for instance, used their entire mid-level exception on Kyle Anderson's offer sheet, meaning they could only sign 32nd overall pick Jevon Carter to a two-year, minimum-salary deal.
This offseason though, a new tool has come in handy in allowing teams to sign players to longer-term or more lucrative contracts than the minimum salary exception would allow, without having to use cap room or the mid-level exception to do it. The catch? Those players had to have finished the 2017/18 season on a two-way contract with the club.
When a player is on a two-way contract, a new kind of deal introduced in the NBA's latest Collective Bargaining Agreement, he's not technically on a club's 15-man roster, but he accrues Bird rights just as a player on the roster would. That means that any player who finished last season on a two-way deal had Non-Bird rights this summer.
Non-Bird rights don't allow teams to give players major raises — Non-Bird deals can only start at up to 120% of the player's previous salary or 120% of his minimum salary, whichever is greater. However, they do allow for contracts of up to four years, which has paid off for some teams and players this summer.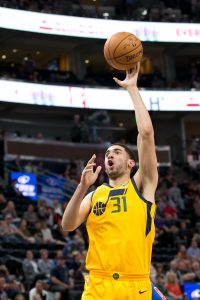 Consider the case of Georges Niang, who was on a two-way contract with the Jazz last season. Buoyed by an impressive Summer League showing with Utah last month, Niang earned a three-year contract with the club. Typically, to go up to three years, the over-the-cap Jazz would have had to dip into their mid-level exception, but that wasn't the case for Niang — his Non-Bird rights allowed for a three-year deal.
While Niang's contract is only worth the minimum, Non-Bird rights do allow for slightly larger salaries, as noted above. For example, the Knicks re-signed former two-way player Luke Kornet to the maximum allowable salary using his Non-Bird rights. Instead of earning his minimum salary ($1,349,383), Kornet will make 120% of that amount ($1,619,260). Without his Non-Bird rights, New York would have had to use its mid-level or bi-annual exception to give Kornet that kind of raise.
Non-Bird rights haven't paid off for every team with a two-way player who's getting a promotion. For instance, the Nuggets moved Torrey Craig to their standard roster by giving him a new two-year, $4MM contract. Denver had to use part of its mid-level exception to complete that signing, since it exceeded the salary Craig could've earned with Non-Bird rights. The Nuggets did take advantage of the Non-Bird rules with their other two-way player though, giving Monte Morris a new three-year contract.
Two-way contracts remain in their relative infancy, so it's interesting to see how teams are taking advantage of the rules surrounding them. Players like Niang, Kornet, and Morris are among the first group of two-way players to be promoted to standard contracts via Non-Bird rights, but they certainly won't be the last.
Here's the full list of two-way players whose teams have promoted them to standard contracts this offseason:
Note: Jamel Artis, Danuel House, Daniel Hamilton, and Kadeem Allen have signed or agreed to standard NBA contracts with new teams after finishing last season on two-way deals.
Photo courtesy of USA Today Sports Images.