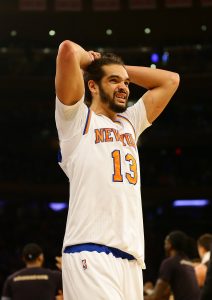 The Knicks are planning to part ways with veteran center Joakim Noah before the start of training camp, according to Adrian Wojnarowski and Ian Begley of ESPN. League sources say New York will use the stretch provision sometime after September 1 if it can't find a trading partner before then.
The 33-year-old has been a disappointment ever since the Knicks gave him a four-year, $72MM contract to lure him away from the Bulls two years ago. Noah still has two seasons and $37.8MM remaining on that deal, which has tied up a significant portion of New York's salary cap and has limited the team's options in free agency.
By waiting until September 1, the Knicks will lock in Noah's $18.53MM salary for the upcoming season and can stretch the remaining $19.295MM over three years. That amounts to roughly $6.4MM a year and will open an additional $12.9MM in cap space for next summer, when the Knicks hope to be major players in the free agent market.
Noah had expressed hope that this summer's coaching change could give him a fresh start in New York, but he doesn't appear to be in David Fizdale's plans. Sources told ESPN that GM Scott Perry has been trying to work out a deal involving Noah since February's trade deadline, but hasn't been willing to give up a promising young player or future first-round picks. Perry has continued his efforts through the summer without success.
Noah was limited to seven games last summer through a combination of injuries, suspensions and coach's decisions. He never returned to the team after a heated argument in practice with former coach Jeff Hornacek in January.
Photo courtesy of USA Today Sports Images.