Veteran center Omer Asik, acquired in last season's Nikola Mirotic with the Pelicans as a salary-matching piece, was unlikely to play at all this season for the Bulls. Still, Chicago's decision to release him over the weekend in order to sign Shaquille Harrison was "stunning" to Eric Pincus of Basketball Insiders (Twitter link), who referred to Asik's contract one of the best trade pieces in the league.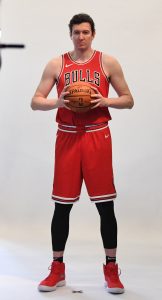 [RELATED: Bulls sign Shaquille Harrison, cut Omer Asik]
Of course, Asik didn't have trade value in the way that star players have trade value, but his contract was an intriguing potential trade chip for a couple reasons: It was signed under the league's previous Collective Bargaining Agreement, and he was owed a partial guarantee of just $3MM on his $11.98MM salary for 2019/20.
Under the league's new CBA, a team trading a player with an $11.98MM salary with a $3MM partial guarantee would only get to count that contract for $3MM for salary-matching purposes, limiting its appeal in a potential deal. However, if that same contract was signed under the old CBA – like Asik's – it counts for its full $11.98MM for salary-matching purposes. That would have made it appealing to teams looking to cut costs during the summer of 2019.
For instance, let's say that the Knicks wanted to make a run at Kevin Durant in the summer of 2019 and needed to move as much salary as possible to clear a maximum-salary slot. Cap rules would have allowed Chicago and New York to swap Courtney Lee (who has a $12.76MM salary for 2019/20) straight up for Asik. The Knicks then could've waived Asik, stretching his $3MM partial guarantee across three years and leaving just $1MM on their cap.
The Bulls might not have wanted Lee, and more parts may have been required to make such a deal acceptable for both sides, but that's just one example of how Asik's modest partial guarantee – and his old contract – provided some value. That $11.98MM cap hit could be useful for salary matching in all variations of trades and wasn't a negative asset since it wasn't guaranteed.
By comparison, a player like Avery Bradley has a contract structure similar to Asik's for next season ($2MM partial guarantee on a $12.96MM salary), but signed his deal under the league's current CBA. If the Clippers wanted to trade Bradley after the season, he'd only count for $2MM for salary-matching purposes rather than $12.96MM, making a deal tricky.
It's possible that Chicago wouldn't have found any use for Asik on the trade market next summer, especially since the team may be far enough below the cap to take on contracts in trades without matching salaries. Harrison will also certainly help the club more in the short term, and the Bulls may eventually be able to remove Asik's contract from their cap altogether if he's deemed medically ineligible to continue his career. Still, it's somewhat surprising that the team didn't wait a little longer before deciding to cut bait on him.
With Asik no longer under contract, there are just two notable players who signed contracts under the old CBA and have partial guarantees for next season — one is Cavaliers guard J.R. Smith ($3.87MM guarantee on $15.86MM salary) and the other is Suns forward Ryan Anderson ($15.64MM guarantee on $21.26MM salary). If either of those players is dealt during the summer of 2019, he'd count for his full salary for trade purposes, rather than just his guarantee amount.
Photo courtesy of USA Today Sports Images.