12:39pm: The Cavaliers have officially confirmed that Smith will no longer be with the team as the club and Smith's reps work to resolve his situation. Within their press release, the Cavs thanked Smith for his contributions to the franchise, including his role in the 2016 championship.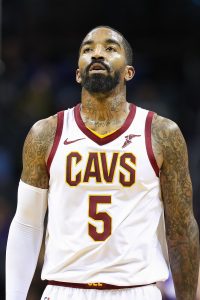 12:21pm: Veteran guard J.R. Smith will no longer be actively with the Cavaliers, according to Joe Vardon of The Athletic (Twitter links), who reports that Smith will work out on his own going forward. Smith's camp and the Cavs are working together to find a trade, Vardon says, adding that a buyout is not a consideration at this point. Vardon describes the breakup as "amicable."
The Cavaliers reportedly gave Smith the opportunity to take time away from the club earlier in the season, but he turned down the offer at the time — it seems he has reconsidered it now. This development doesn't come as a huge surprise after Smith made comments suggesting that the Cavs weren't trying to win, and that he didn't want to be part of a team if its goal wasn't "to compete, to win."
Smith had been a regular part of Cleveland's rotation over the last couple weeks, but played just six minutes in Monday's loss to the Pistons. It appears those will be his last minutes for the team for a while – perhaps ever – as he'll be pulled from the rotation for the third time this season. The Cavaliers have been somewhat indecisive so far in 2018/19 about whether to play their veterans or focus on developing their young prospects, but they appear to be moving more and more toward the latter path.
While Smith is very much on the market, it won't be easy for the Cavs to find a trade partner. The 33-year-old is off to a very poor start to the season, with just 6.7 PPG on .342/.308/.800 shooting in 11 games (20.2 MPG). He's also earning a $14.72MM salary in 2018/19.
On the plus side, while Smith remains under contract for one more year beyond this season, his 2019/20 salary, worth $15.68MM, is only partially guaranteed for $3.87MM, so it'd be relatively inexpensive to cut him loose at season's end.
Photo courtesy of USA Today Sports Images.