The Timberwolves have fired Tom Thibodeau as their head coach and president of basketball operations, according to Shams Charania and Jon Krawczynski of The Athletic (via Twitter). After dealing with the Jimmy Butler fiasco, the Timberwolves currently sit at 19-21 and are on the outside looking in on the Western Conference playoff picture.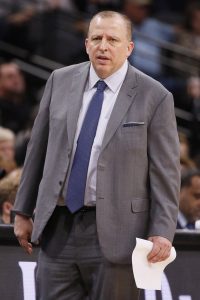 Krawczynski is also reporting that Ryan Saunders will take over as head coach on an interim basis while Scott Layden will still serve as the team's general manager.
Meanwhile, Adrian Wojnarowski of ESPN is reporting that Fred Hoiberg is a serious candidate to become the team's GM or coach. Hoiberg previously served as the Timberwolves' assistant GM before leaving to be the head coach at Iowa State University. Wojnarowski also believes that Monty Williams may emerge as a serious candidate for the coaching position due to previous interest that the Timberwolves had in bringing Williams in as head coach.
Team owner Glen Taylor spoke to the media about the decision to fire Thibodeau, stating that "we've gone up through halfway through the season and I don't think we're where we thought we would be or where we think we should be." Taylor also expressed a desire to make the playoffs, believing that making such a change with half the season left may give the Wolves a chance to do so.
In two and a half seasons with the Timberwolves, Thibodeau had a 96-107 regular season record, leading the club to the playoffs last season for the first time since 2004. However, his decision to acquire Butler from his old team in Chicago ultimately led to his downfall. Although the All-NBA swingman helped Minnesota win 47 games in 2017/18, his offseason trade request – and Thibodeau's initial reluctance to grant that request – created several weeks of drama within the organization and didn't reflect well on Thibs.
Thibodeau's firing represents a continuation of a trend in the NBA's head coaching ranks. Within the last two years, four head coaches who held president of basketball operations titles within their respective organizations have had those responsibilities removed or have been fired altogether. Mike Budenholzer (Hawks), Doc Rivers (Clippers), and Stan Van Gundy (Pistons) were the others. Gregg Popovich of the Spurs is now the only NBA head coach who is also his team's head of basketball operations.
Photo courtesy of USA Today Sports Images.