The trajectory of Karl-Anthony Towns' 2018/19 season significantly changed when the Timberwolves finally found a taker for Jimmy Butler, sending him to Philadelphia in November. Prior to that trade, Towns had been just okay by his standards, averaging 19.9 PPG and 10.8 RPG on 45.9% shooting in 13 contests. Since Butler's departure, the former No. 1 overall pick has boosted those averages to 24.6 PPG, 12.7 RPG, and a 53.3 FG% in 46 games.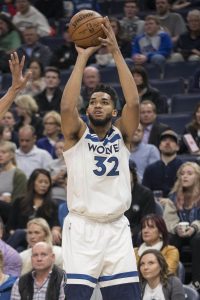 While Butler's departure helped boost Towns' numbers, it may be another player's trade request that ultimately has a greater impact on the 23-year-old and his team, as Dane Moore of 1500 ESPN observed this week (via Twitter).
When Towns signed a five-year, maximum-salary contract extension with Minnesota last fall, a decision Jon Krawczynski of The Athletic recently revisited and explored in more detail, the two sides agreed to a condition that will determine how much the deal is actually worth. If Towns earns a spot on an All-NBA team this spring, his new contract will have a starting salary worth 30% of the cap. If he doesn't, his 2019/20 salary will be just 25% of the cap.
As our early maximum salary projections for 2019/20 show, that difference projects to represent a gap of more than $5MM next season. Over the course of the five-year contract, Towns would earn a projected $189.66MM on a 30% max, as opposed to $158.05MM on a 25% max. For a Minnesota team that's also on the hook to a long-term max contract for Andrew Wiggins, that difference isn't insignificant — it could help determine whether or not the Wolves can make certain moves in the coming years.
So what are the odds of Towns making an All-NBA team this season? Well, he'll be considered a center, and there are two centers who look like locks to be named to All-NBA squads — Nikola Jokic has been an MVP candidate in Denver, and Joel Embiid has been the best player on a Sixers club that looks like a legit contender in the East. It's hard to imagine a scenario in which Towns beats out either player for a spot on the First or Second All-NBA Team.
Of course, there's one more big man who would typically be a perennial lock for an All-NBA slot: Anthony Davis. That brings us back to AD's trade request. Davis believes he should be considered the "best player in the league," as he said on Wednesday night (link via Martin Rogers of USA Today), but the extent to which his public trade request has devastated the Pelicans won't be lost on voters.
Based on his pure numbers (27.5 PPG, 12.5 RPG, 4.1 APG, and 2.5 BPG), Davis obviously has a strong All-NBA case, but he'll likely be blamed for the dysfunction in New Orleans and penalized accordingly for it. His minute restrictions down the stretch will reduce his overall numbers, and he's unlikely to play more than 65 games. Plus, the Pelicans are on track to be a bottom-four team in the West. And on top of all that, some All-NBA voters may consider Davis a forward, which would split his votes between two positions. There are a lot of factors working against him earning one of the three center spots.
It's still possible that voters will name Davis to an All-NBA team, but I'm somewhat skeptical. And if AD doesn't make it, that opens the door for another center to grab a Third Team spot. Towns would be a prime candidate for that slot, though he'd face stiff competition from Rudy Gobert and Nikola Vucevic, both of whom are having excellent seasons.
Gobert's impact on the defensive end of the court could give him a leg up on Towns, but only if All-NBA voters weigh his defensive contributions much more heavily than All-Star voters did — Gobert didn't earn a spot on the Western Conference All-Star team this month.
As for Vucevic, he isn't scoring quite as much as Towns this season, but his numbers across the rest of the board match up pretty favorably with the Wolves' young star. If Vucevic helps push the Magic into the postseason, perhaps he'd get the edge over Towns. If not, I could see voters being swayed by KAT's more impressive scoring numbers.
It remains to be seen whether Towns will ultimately be named an All-NBA player, but it's a subplot worth watching the rest of the way, since voters will be making a $30MM+ decision. If KAT does earn a spot on an All-NBA roster, it wouldn't be a surprise if Davis' trade request indirectly helped get him there.
Photo courtesy of USA Today Sports Images.