The NBA has officially announced its All-Rookie teams for the 2018/19 season. Luka Doncic of the Mavericks and Trae Young of the Hawks – widely viewed as the only two legit contenders for this season's Rookie of the Year award – were also the only two players to be unanimously selected to the First Team, receiving 100 out of 100 possible votes.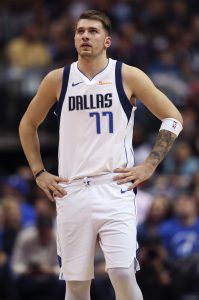 Suns center Deandre Ayton nearly joined them as another unanimous First Team pick. However, he was listed on the Second Team on five ballots, with 95 First Team votes. Kings forward Marvin Bagley was the only other player to be named on all 100 ballots, receiving 56 First Team votes.
Grizzlies big man Jaren Jackson Jr. rounded out the First Team, ensuring that all five players in that group were top-five picks in the 2018 draft.
Listed below are the NBA's All-Rookie teams for 2018/19, with the player's vote total in parentheses. Players received two points for a First Team vote and one point for a Second Team vote.
First Team:
Second Team:
Of the players who missed out on All-Rookie honors, Suns forward Mikal Bridges came the closest, with 31 points, followed by Knicks forward Kevin Knox (22 points). None of the 10 other rookies who earned votes earned more than 12 points, though Josh Okogie (Timberwolves) and Miles Bridges (Hornets) each received one First Team vote.
The full voting results can be found within the NBA's press release.
Photo courtesy of USA Today Sports Images.