Nets center Jarrett Allen is coming off an impressive season with the team, one that saw him significantly improve on both ends of the floor, emphatically block the shots of superstars like LeBron James and Giannis Antetokounmpo, and help lead the franchise to the playoffs for the first time since 2015.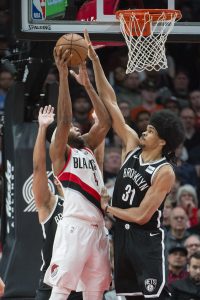 Allen, who was drafted by Brooklyn with the No. 22 pick back in 2017, averaged 10.9 points, 8.4 rebounds, 1.5 blocks and 26.2 minutes in 80 total games this year. He credits the Nets' strong camaraderie and willingness to sacrifice as two major reasons for the late-season surge that helped the club claim the sixth seed in the Eastern Conference. Based on most preseason projections and predictions in October, the Nets easily outperformed expectations.
"What was so special about this season was the team. Not just the team itself, but the people we had on it," Allen told Hoops Rumors. "I mean, other than D'Angelo [Russell], we didn't have any All-Star players. We all had to find our place and our role on the team, and everybody did it acceptingly."
Allen discussed the Nets' roller-coaster season, how the team made a sudden playoff surge, his offseason priorities, Russell's upcoming restricted free agency, and much more in a wide-ranging conversation with Hoops Rumors.
---
What's it like to play for fans of a true basketball city, a loyal, energetic and supportive fanbase like Brooklyn? They stuck with you guys through the good and bad all season long.
"It feels good. They're always there to support you. Last year when we didn't have the best season, everybody we saw at the arena or even out on the streets were just telling us, 'You'll get them next year, you'll get them next year.' They kept having that support all throughout and we ended up making the playoffs [this year] and gave back on that promise."
So how did this team turn it around? You guys had eight straight losses in November and immediately followed it up with seven straight wins. What started the turnaround into a successful second half of the season? 
"Well I think the turnaround started when [head coach] Kenny [Atkinson] and the vets all sat us down and told us basically that the season's not over. We had a team meeting, a players-only meeting, just to go over that if we don't start winning then the season's going to be over. You know, the vets told us that it was still possible to turn it around. I think all of us just rallied behind what they were saying. We all just kept our heads up and put in the work that we needed to."
So I'm willing to bet money that one of those guys who stepped up in the meeting was Jared Dudley. Am I correct?
"Yep, he was the one."
How important was Jared for the team? A lot of fans look at the on-court product and base their final opinion on that, but what they don't see is what happens behind the scenes and in the locker room.
"He's just so important. He helped coach on the floor, basically like a player-coach. In the locker room he always brought us positive energy. He's just a good guy to be around. But then just him showing the fight and telling us how basketball needs to be played, because he has a lot of experience, how basketball needs to be played to become a better team. It was easy to trust the vets, and we did it."
How was playing in the postseason for you? I'd imagine a lot different from playing in the regular season, yeah? 
"Oh, it's a lot different. The amount of preparation that goes into every game, and then just being out on the court for the first time during the postseason, you can just feel the atmosphere was different between the players. It was just a new experience for me, just different."
Do you think there's a rivalry today between the Knicks and Nets, or at the very least could there be a rivalry going into next season?
"I think there's a little bit of a rivalry. We're an across-town team and everybody wants to be the best team in the city [of New York]. But, you know, it's hard to be a rivalry because Brooklyn's a new team. We don't have a lot of history behind the Brooklyn name, so it's hard to make a rivalry when we haven't really showed anything."
So, looking into free agency, obviously D'Angelo Russell is set to become a restricted free agent. Have you spoken with him about it, or do you plan on speaking with him about it? 
"No, not really. I know he's out doing his own thing right now. He has to figure out his own path right now, and I know him and his group are going to make the best decision for themselves."
And obviously you want him back, considering how important of a piece he was to your puzzle this season?
"We would take him back in a heartbeat. He's a leader. He led the team throughout everything that happened last year, with Spencer [Dinwiddie] and Caris [LeVert] going down to injury. He's helped me tremendously grow as a player, so I would have him back in heartbeat."
What do you know about Taurean Prince? Obviously the agreed-upon trade with Atlanta won't become official until the first week of July — have you gotten the chance to meet or speak with him yet? 
"No, I haven't gotten the chance yet. I know him from his Baylor days. But I think he'll fit right into the type of system Brooklyn's making: grit, and just knowing our role and accepting it."
Do you plan on having a recruiting role for your team this offseason, or do you prefer to sit back and just let the dominoes fall?
"I'm letting those dominoes fall — I'll deal with it when it happens."
What's your ceiling as a player? In other words, where do you see yourself and your game in the next three to five years?
"Honestly — I have no idea. I know a lot of people say I have a high ceiling and the potential to be something great, and all I know is that I'm going out and giving my best effort every night."
Do you have any primary goals for improving during the offseason? A lot of people have pushed for you to add more weight for next season, as you know.
"I would say that basically the whole world knows I need to put on some weight. You know, just dealing with big guys like that, it showed in the playoffs that I kind of struggled with the strength aspect. That's obviously going to come with age, it's just coming with working out, so I'm not too worried about it. Something I want to work on skill-wise is decision-making with the ball, and expanding my range to the three."
Have you spoken with Kenny Atkinson about either of those two things? 
"Oh yeah, he's in the gym quite a bit. You know, walking around just checking on us. He said the exact same thing."
In your mind, what truly allowed this team to prove so many people wrong this season? 
"We knew we could do it. Like you said, at the beginning of the season there was a lot of doubt, people thinking we wouldn't be in the playoffs. But coming into training camp, coming into practices we all practiced with the thought of the playoffs in our heads. So I think that was the one thing — speaking about the playoffs and playing for it."
---
Photo courtesy of USA Today Sports Images.