JULY 8: The Timberwolves and Blazers have issued press releases to confirm that the trade is official. Portland will generate a small trade exception in the deal.
JULY 3: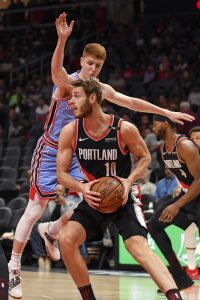 The Timberwolves have reached a deal to sign forward Jake Layman to a three-year, $11.5MM contract, agent Mark Bartelstein tells ESPN's Adrian Wojnarowski (Twitter link).
Layman is a restricted free agent whose rights are held by the Trail Blazers, but he won't be signing an offer sheet. Instead, Minnesota will acquire him from Portland via a sign-and-trade arrangement, according to Wojnarowski.
"We're extremely appreciative of how hard (Blazers president of basketball operations) Neil Olshey worked with us to accommodate what we were trying to accomplish in this sign and trade," Bartelstein told Wojnarowski (Twitter links). "The deal couldn't have happened without the Blazers looking out for Jake's best interests."
The Blazers will receive the draft rights to 2013 second-rounder Bojan Dubljevic in the deal, tweets Darren Wolfson of SKOR North.
Layman, 25, has spent the first three seasons of his NBA career in Portland after being selected with the 47th pick of the 2016 draft. He played a limited role in his first two seasons, but claimed a regular spot in the Blazers' rotation in 2018/19, averaging 7.6 PPG and 3.1 RPG with a .509/.326/.704 shooting line in 71 games (18.7 MPG).
Minnesota lost some shooting in its frontcourt by agreeing to trade Dario Saric to Phoenix and watching Anthony Tolliver sign with the Blazers. The Wolves will presumably look to replace those departed players with Layman and Noah Vonleh, who agreed to a deal with Minnesota earlier this week.
Speaking of Saric, the trade sending him to the Suns will need to be completed before the Wolves' deal with the Blazers, since Layman will slot into the trade exception created by Saric's departure, per ESPN's Bobby Marks (Twitter link). That exception will be worth $3.48MM, so Layman's starting salary is permitted to start at $3.58MM (trade exceptions have an extra $100K cushion).
The Wolves, whose interest in Layman was first reported by Darren Wolfson on Tuesday, will be hard-capped at $138.9MM for the 2019/20 league year as a result of acquiring a player via sign-and-trade.
Photo courtesy of USA Today Sports Images.