Every basketball player is told at some point that they can no longer play the game. It could be a coach telling you that you didn't make the team, an organization deciding to go in a different direction, or simply the voice in your head telling you that risk of injury is too great at a certain age. It's an inevitable message, one that Tony Wroten isn't ready to hear yet.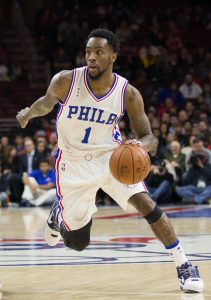 Wroten's basketball journey takes another turn with the former first-round pick set to play for a new European team next season
(Note: Croatian team KK Zadar announced the signing of Wroten on its website, but multiple reports since then have indicated he's on track to land instead with Polish club Anwil Wloclawek.)
Wroten is no stranger to international play. He suited up for BC Kalev/Cramo in Estonia last season, an experience he said helped him to improve.
"Obviously, Europe in general is different than the States," the 6'5″ combo guard told Hoops Rumors during the Wizards' pre-Summer League training camp earlier this offseason. "Even basketball. The basketball is different, the culture, it was a learning experience. I was able to learn things about myself and get better both mentally and physically on and off the court. I really think that helped me to get to where I am now."
Injuries have stunted Wroten's growth as a player. He tore his ACL early in the 2014/15 season while playing for Philadelphia but was able to work his way back to the court in December of 2015. The Sixers waived him on Christmas Eve—just eight games into his comeback campaign—and he hasn't played in an NBA game since.
Wroten said he felt like his health was finally back to 100 percent while speaking to Hoops Rumors at the Wizards' camp back in June. He was impressive during the three-day event, displaying athleticism, passion, and leadership, at least during the media portion of drills.
"Being a professional, I know I'm not perfect. I'm trying to work on every single thing," Wroten said with a mix of conviction and urgency. "In the NBA, it's the best of the best and you have to pretty much have no weaknesses if you're going to be a star in the league."
Wroten still has ambitions to continue his career in the NBA. Sources told Hoops Rumors earlier this summer that the 26-year-old was under consideration for an NBA roster spot in at least one organization.
Instead of returning to the league, Wroten will spend another season in a situation that will require him to learn on the fly. Last year, he had to adjust to the the Latvian-Estonian Basketball League, which has a reputation for not being kind to scorers due to slightly different restrictions and rules in the paint. Wroten figured it out, averaging 19.6 points per game during his final five contests in Eastern Europe, all while playing in an environment that was much different than in any of his previous stops.
"In the States, no one is beating the drums all game and throwing things on the floor. [The European fans] are really passionate. It's just a different kind of passion the NBA vs. Europe," Wroten explained.
Among the other players on BC Kalev/Cramo's roster last season? Arnett Moultrie. Yes, former NBA player Arnett Moultrie, who was Wroten's teammate on the 2013/14 Sixers.
The duo played together for just one NBA season, as Moultrie was traded to New York in 2014. In return, the Sixers took back Travis Outlaw and netted a 2018 second-rounder and a 2019 pick that ended up being the No. 33 overall selection—the Sixers packaged this pick with its first-rounder to move up and select University of Washington's Matisse Thybulle.

"Being there since the start of The Process, [through the] bad years, and for them to be in the playoffs and close to the Eastern Conference Finals, it just shows the trust [the organization] has in the team and the players behind [Joel] Embiid," said Wroten who was in Philadelphia for parts of three seasons. "I'm happy for them."
Wroten is also happy for the city. He remembers the Philadelphians who continued to show up to the Wells Fargo Center to see a team that didn't put out the best product. "For us to have a record like we did and to still have the support: Philadelphia is terrific fan base," he said.
The 26-year-old feels like he's fully healthy for the first time since those pre-injury Sixers days. While the Seattle-native appears likely to play in Poland this upcoming season, he'll knock on the NBA's door again in the future.
Injuries cause many professional athletes to consider retirement and potentially pursue other career choices. Wroten's setbacks could have forced him to second-guess his future but he never doubted his path: Basketball is life.
"Injuries, you can't control," Wroten said. "But with me being a competitor, I'd have to be dead not to play."
Photo courtesy of USA Today Sports Images.