Hawks big man John Collins has been suspended for 25 games for violating the terms of the NBA's anti-drug program, the league announced today in a press release. According to the announcement, Collins tested positive for Growth Hormone Releasing Peptide-2 (GHRP-2).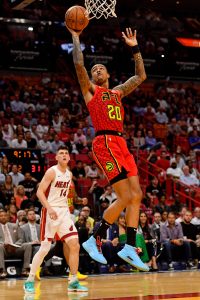 In a statement to ESPN's Adrian Wojnarowski (all Twitter links), Collins apologized to his teammates and the Hawks' organization, as well as the team's fans.
"I understand the impact this matter has on what we are trying to achieve together this season, and I am incredibly frustrated and disappointed in myself for putting all us in this position," Collins said. "I have always been incredibly careful about what I put in my body, but I took a supplement, which unbeknownst to me, had been contaminated with an illegal component.
"I plan to appeal my suspension in arbitration so I can get back on the court as soon as possible and continue to contribute to our 2019-20 campaign."
Collins is working with the NBPA to begin the appeal process, according to Wojnarowski (Twitter link). However, it seems unlikely that he'll be able to get the penalty reduced.
Assuming Collins does have to serve all 25 games of the suspension, he'll be eligible to return to the Hawks' lineup on Monday, December 23 in Cleveland. He'll also forfeit nearly $611K of his 2019/20 salary, as ESPN's Bobby Marks tweets.
There has been a noticeable uptick so far this season around the NBA in drug-related suspensions. Collins is the third player so far to be hit with a 25-game ban, joining Wilson Chandler (Nets) and Deandre Ayton (Suns).
Atlanta will be eligible to add a 16th man to its roster after its November 12 game in Denver, since Collins can be moved to the inactive "suspended list" following the fifth game of his suspension.
While having to get by without Collins for the next 25 games is a tough blow for the Hawks, the team did get a bit of good news today. According to Chris Haynes of Yahoo Sports (Twitter link), Trae Young will be able to return to action on Tuesday night after dealing with a sprained ankle for the last several days.
Photo courtesy of USA Today Sports Images.