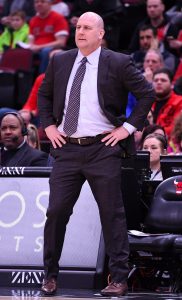 It appears Bulls coach Jim Boylen doesn't have to worry about job security despite a disappointing 9-18 start. Executive vice president John Paxson expressed full confidence in his coach today in separate interviews with several media outlets.
"We're committed to Jim. There's no quick fix to this," Paxson told K.C. Johnson of NBC Sports Chicago. "We're not thinking of making any changes. Jim is a grinder. He's going to keep grinding. One thing I respect immensely about him is he's willing to listen to ideas. The thing he and I do is talk basketball. When I see things, he listens to what I have to say. Not that I'm making the decisions and I don't tell him to play, but we talk basketball. And he's open. He's going to continue to grow and get better."
Boylen has compiled a 26-59 record since taking over for Fred Hoiberg last December. His early days as head coach were met with a near mutiny by some of his players, who weren't fond of the tough-guy tactics he brought to the role. Since then, there have been ups and downs in his relationship with the team, including public comments last month from Zach LaVine questioning whether Boylen is showing enough trust in him.
"There's always some conflict," Paxson said. "It can be teammate to teammate or coaches to players. That's inevitable in this business. I don't expect this group to fracture. I'd be disappointed if they did. All the guys in that locker room expressed to us their character and that's not where they want to go or would ever go. I believe when they tell me that. I know that when things are bad or you're not winning as much as you should, people want to point fingers. I'm not doing that internally. And we can't do that internally. Once you do that, you're in trouble."
Paxson said at Media Day that he expected the Bulls to challenge for the playoffs. However, the team has stumbled out of the gate and is currently in 11th place, although just three games out of the eighth spot. There have been grumblings about Boylen's new offense, which places a larger emphasis on 3-point shooting, and about his tendency to use more players than other coaches do, resulting in decreased minutes for LaVine and Lauri Markkanen.
Paxson still believes the Bulls can reach the postseason and told Joe Cowley of The Chicago Sun-Times that he accepts the blame for the rocky start.
"I'll say this again, I thought — and we all did — we would have a better record than we do right now," Paxson said. "I do believe we have talent. It's young and not a lot of experience, but I do believe we have talent. So we've underperformed in that area, but there's no quick fix in this right now. That's the view I have to take.''
He added that he's not worried about his own job, even though many Bulls fans have been pleading for a front office shakeup for several years.
"I never worry about that,'' he said. "I communicate with Jerry and Michael [Reinsdorf], and they know where my head is at, my heart is at and what I'm trying to do. Look, that's a 'what if', and I'm not working on a 'what-if.'''
Photo courtesy of USA Today Sports Images.