12:11pm: The Knicks have officially announced Mills' dismissal, phrasing it in their press release as the team president "leaving his position." Mills will be nominated to the board of Dolan's standalone sports company once it spins off from MSG's entertainment business, according to the announcement.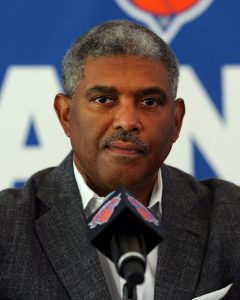 "Steve and I have come to the decision that it would be best for him to leave his role as president of the New York Knicks," Dolan said in a statement. "We thank Steve for his many years of service to our organization and look forward to continuing our relationship with him as part of our board."
10:59am: The Knicks are parting ways with team president Steve Mills, according to reports from Adrian Wojnarowski of ESPN and Shams Charania of The Athletic (Twitter links). General manager Scott Perry has taken over as the club's head of basketball operations on an interim basis, Charania adds (via Twitter).
Mills, a former MSG executive, was named the Knicks' general manager in 2013 and worked under Phil Jackson during Jackson's tenure as team president, starting in 2014. Following Jackson's dismissal in 2017, Mills was elevated to the president role, with Perry coming aboard as New York's new GM.
The Knicks haven't earned a playoff spot or won more than 37 games in a season since Mills arrived in 2013. Although he was given the green light to lead the team's latest rebuild, his job security began to waver in 2019 after the team traded up-and-coming star Kristaps Porzingis to Dallas in a cap-clearing trade, then failed to land any star players with that cap room in free agency.
Mills was still given the chance to start the season with the team and had the autonomy to fire head coach David Fizdale in the fall, but New York remains lottery-bound under interim coach Mike Miller. Curiously, the 15-36 Knicks ultimately decided to part with Mills just 51 hours before the trade deadline, leaving Perry to run the show this week. The two executives hadn't been seeing eye-to-eye on certain issues going forward, tweets Marc Berman of The New York Post.
According to Wojnarowski (via Twitter), Perry is expected to remain in his GM role for the foreseeable future. However, Knicks owner James Dolan will interview candidates for the president position, with Raptors president of basketball operations Masai Ujiri at the top of the club's wish list, per Ian Begley of SNY.tv (Twitter link). Charania suggests (via Twitter) that the team's interview process has already begun.
New York's previous interest in Ujiri went nowhere, and there's some skepticism that the Raptors' head of basketball operations would leave a stable situation in Toronto to work for Dolan and the dysfunctional Knicks.
Still, there have been "strong rumblings" since December that the Knicks believe they have a real chance to land Ujiri, according to Marc Stein of The New York Times (Twitter link). Begley conveys a similar sentiment, tweeting that Ujiri has told confidants in the past that he'd be open to considering the Knicks' job under the right circumstances.
Ujiri's contract runs through the 2020/21 season, so if the Knicks want to lure him away from Toronto before then, they'd have to send some form of compensation to the Raptors. And their division rivals are probably unlikely to give the Knicks a discount, even if Ujiri decides he wants to leave.
For now, it will be fascinating to see how the Knicks approach the trade deadline. Nearly everyone on the roster has been mentioned in at least one trade rumor, but it's unclear how Perry's and Mills' views on certain players differed.
Photo courtesy of USA Today Sports Images.