For Norvel Pelle, earning a standard contract with the Sixers took several years of hard work, dedication and passion, as the 27-year-old spent much of his professional career playing in the G League and in international leagues.
Pelle, who made his NBA debut this past November, took a rather unique path to the Association. Rather than attending college, he joined the NBAGL's Delaware 87ers (now the Delaware Blue Coats) in the fall of 2013. He showed some promise as a 20-year-old, averaging 5.5 points, 3.1 rebounds and 1.4 blocks in just 13.1 minutes per contest, but went undrafted in 2014.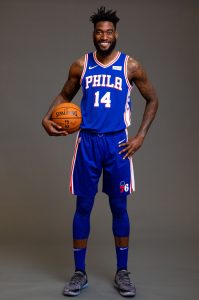 Pelle would test his luck by signing in Taiwan later that summer before returning to the G League with Delaware in March of 2015. He appeared in four games during that second NBAGL stint and signed in Lebanon to end the year, seeking a sense of stability in his young, budding career. Pelle subsequently joined the Heat for two summer league stints, attempted a third overseas stint in Italy, then made a fourth trip to join Auxilium Torino in early 2018.
It was around that time when Pelle, a 6'10" defensive specialist, began to make a name for himself. He was added to Philadelphia's 2018 summer league team and received his first invitation to training camp, spending the rest of the season in Delaware and a final overseas stint in Lebanon.
Unbeknownst to fans, the 76ers were keeping close tabs on Pelle as he continued to develop and improve throughout the 2018/19 season, eventually earning a spot on the G League's All-Defensive team. Philadelphia decided to offer Pelle a two-way contract last July, with general manager Elton Brand showing a level of trust in the big man that other lead decision-makers hadn't.
"That made me feel real good," Pelle told Hoops Rumors in a phone interview.
Brand had a successful 17-year NBA career in his own right, going first overall in the 1999 draft and earning a pair of All-Star berths. Having Brand recognize his improvement was an important step for Pelle.
"We've gotten close, where I could just call him up and talk to him [if need be]," Pelle said of the Sixers' GM. "It's just amazing."
Pelle accepted Philadelphia's two-way contract offer, entering training camp last fall having improved significantly since attending camp with the team a year earlier. His progress made a strong impression with coaches and teammates alike, and he continued to make strides in the preseason. After all, playing alongside the likes of Al Horford and Joel Embiid — all while having Brand as the team's GM — is sure to have a positive influence on a big man's arsenal. Pelle's focus on improving his touch and strength during the offseason paid off, earning respect from Horford, Embiid, and others.
"You get motivated competing against them every day," Pelle said. "Al's been in the league for so long, Joel's been dominant over these years. It motivates me to just want to keep working."
Pelle did exactly that, working tirelessly on his two-way deal this season. Earning that contract was a notable milestone, yes, but Pelle had his sights set on something greater: earning a standard contract with the franchise. Fast forward to early February, just after the trade deadline, and Pelle received the phone call he's always dreamed of — the Sixers wanted to turn his two-way contract into a traditional, multiyear NBA contract, guaranteeing his salary for the remainder of the season.
"It definitely brings out a lot of feelings," Pelle said of signing his first standard contract. "I tried to do something that I wanted to accomplish, and I accomplished it. Now it's just about longevity — playing a long time in the league."
Back in September, a member of the media asked Pelle what his primary goal was coming into the season. His response was fitting, short and sweet.
"To get better day by day," Pelle said. "You know, learn from the people that have been in the league for a long time. Contribute to a championship."
Pelle has unique athletic capabilities and defensive skills that are highly coveted by NBA teams. He leads all rookies in blocks per game (1.4), despite averaging just over 10 minutes per game. His rate of 5.0 blocks per 36 minutes is easily tops among players who have logged at least 150 minutes this season (Daniel Gafford is second at 3.6). Pelle has also chipped in 2.5 PPG and 3.4 RPG on 59% shooting. He remains a student of the game, soaking up as much information as possible from Horford, Embiid, and Philadelphia's other vets.
Horford came off the bench at center for the first time on Tuesday, and if the Sixers stick with their new lineup going forward, Pelle's path to more playing time could become challenging. But he remains a talented defensive player with high upside, possessing the necessary tools to be a handful for defenses around the rim, a threat for alley-oops, and a physical screen-setter on offense.
"Just high energy off the bench, blocking, shots, protecting the rim," Pelle said of what he brings to the team. "Just an actual spark. I feel like that's really what my role on this team is, to just come in for however long I'm in for and provide a quick burst of energy — a quick spark."
There's no question that earning a standard NBA contract was an important breakthrough for Pelle, but it hardly represents the end of his journey. His salary for 2020/21 becomes guaranteed if he's still on the roster beyond July 6, and those closest to him not only insist that his hunger remains — they're adamant it has increased.
"This season has been amazing," Pelle said. "It's like a dream come true. Everything that's happened, every experience as far as being in the NBA — it's just been amazing.
"The next step is to keep growing as an individual, both on and off the court. It's just soaking up as much information as I can throughout the years, however long I stay in the league. Just keep soaking up information each year, learn something new. It doesn't have to be Hall or Fame or nothing — just to know that Norvel Pelle did this is great."
---
Photo courtesy of USA Today Sports Images.