Confirming a Friday report, star forward Kevin Durant told Marc J. Spears of The Undefeated in a wide-ranging interview that he won't play for the Nets when the 2019/20 season resumes this summer.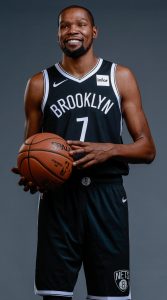 "My season is over. I don't plan on playing at all," Durant said. "We decided last summer when it first happened that I was just going to wait until the following season. I had no plans of playing at all this season."
Durant tore his Achilles tendon nearly a year ago during the 2019 NBA Finals and had originally been ruled out for the entire 2019/20 season. When the coronavirus pandemic resulted in the end of the season being postponed, there was some speculation that KD might not have to wait until 2020/21 to make his Nets debut after all. However, reports in recent weeks continually indicated that was unlikely to be the case.
Prior to the suspension of the season in March, Durant had progressed to scrimmaging with teammates, but his rehab process slowed down when practice facilities became unavailable and group activities were no longer permitted. The former MVP told Spears that his rehab is still going well and that he's "feeling like a normal player again," but said putting off his return until next season is the right call.
"It's just best for me to wait," Durant said. "I don't think I'm ready to play that type of intensity right now in the next month. It gives me more time to get ready for next season and the rest of my career."
As for teammate Kyrie Irving, the expectation for now is that he also won't be healthy enough to return for the Nets this summer in Orlando. Irving is recovering from undergoing shoulder surgery earlier this year.
According to ESPN's Adrian Wojnarowski (via Twitter), Irving suggested on Friday's NBPA conference call that he may end up joining the Nets this summer as an inactive player supporting his teammates.
Photo courtesy of USA Today Sports Images.