Lakers guard Avery Bradley is voluntarily opting out of participating in the NBA restart, he tells ESPN's Adrian Wojnarowski.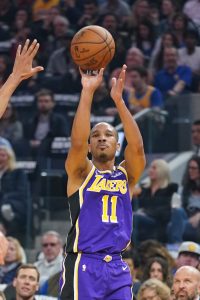 Although Bradley has been among the players voicing concerns about the resumption of the season drawing attention away from the fight for social justice, Wojnarowski reports that family considerations – including the well-being of his three children – are a primary factor in Bradley's decision.
According to Woj, Bradley's six-year-old son has a history of struggling to recover from respiratory illnesses and likely wouldn't be medically cleared to enter the Orlando bubble after the first round of the playoffs, when family members will be permitted to join players.
"As committed to my Lakers teammates and the organization as I am, I ultimately play basketball for my family," Bradley told ESPN. "And so, at a time like this, I can't imagine making any decision that might put my family's health and well-being at even the slightest risk.
"As promised also, I will use this time away to focus on the formation of projects to help strengthen my communities."
Bradley becomes the third player known to be opting out of the season's resumption. However, Davis Bertans and Trevor Ariza – the other two players who have decided not to participate – are on teams currently outside of the playoff picture, while Bradley is a key rotation player for the Western Conference's No. 1 seed.
Bradley, 29, averaged 8.6 PPG and 2.3 RPG on .444/.364/.833 shooting in 49 games (24.2 MPG) this season, and was considered one of the Lakers' top perimeter defenders. Now that he's out of the mix for Orlando, the team may have to lean on guards like Kentavious Caldwell-Pope, Alex Caruso, and Rajon Rondo to play increased roles.
The Lakers will also be eligible to sign a substitute player to replace Bradley, despite not having an open spot on their 15-man roster. Virtually any current free agent is eligible to be signed, as long as he didn't play in a non-NBA professional league this season.
That substitute player won't count against L.A.'s cap, though he can only be signed to a minimum-salary, rest-of-season contract and won't have any form of Bird rights at season's end, notes ESPN's Bobby Marks (Twitter link).
Bradley will forfeit a portion of his $4.77MM salary by sitting out the summer portion of the season — Wojnarowski estimates the decision will cost the veteran guard approximately $650K. Bradley has a player option for 2020/21 worth just over $5MM.
Photo courtesy of USA Today Sports Images.