Doc Rivers won't return next season as head coach of the Clippers, reports ESPN's Adrian Wojnarowski (via Twitter). The team confirmed the move in a press release, announcing that Clippers owner Steve Ballmer and Rivers reached a mutual decision that the head coach will step down.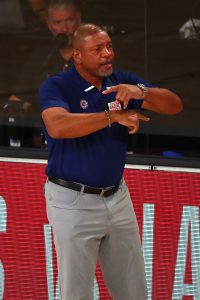 Rivers has issued a statement on his Twitter account confirming his exit and thanking "Clipper Nation" for its support.
"When I took this job, my goals were to make this a winning basketball program, a free agent destination, and bring a championship to this organization," Rivers wrote. "While I was able to accomplish most of my goals, I won't be able to see them all through. Though it was a disappointing ending to our season, you are right there and I know what this team is capable of accomplishing with your support."
Rivers, who previously coached in Orlando and Boston, had been the Clippers' head coach since the 2013/14 season, compiling a 356-208 (.631) record during his seven seasons in Los Angeles. He oversaw multiple iterations of the roster during that stint, starting with a group led by Chris Paul and Blake Griffin, which ultimately transformed into this year's team led by Kawhi Leonard and Paul George.
During his tenure, Rivers took on responsibilities beyond those of a typical head coach, helping to guide the organization through the transition in ownership from Donald Sterling to Ballmer, then running the basketball operations department until Lawrence Frank was promoted to president of basketball ops in 2017.
The Clippers made the postseason in six of the seven years with Rivers at the helm, falling short of the playoffs just once in 2018. However, the team never advanced past the second round, having been eliminated in the Western Conference Semifinals in 2014, 2015, and 2020. This year's loss was especially devastating, as the Clips were considered a frontrunner for the title and held a 3-1 lead over Denver before losing their final three games of the season.
Despite that end-of-season collapse, Rivers' exit comes as a surprise, since he's well-liked and respected by players around the league, and possesses a championship résumé. He also had two years left on his contract, per Wojnarowski (Twitter link), and his presence in Los Angeles was believed to be a major factor in Leonard's desire to sign with the Clippers last summer.
Rivers was the NBA's fifth longest-tenured coach, behind only Gregg Popovich (Spurs), Erik Spoelstra (Heat), Rick Carlisle (Mavericks), and Terry Stotts (Trail Blazers).
It's unclear what's next for Rivers, but if he's interested in pursuing another head coaching job immediately, the teams still in the process of hiring new head coaches should sit up and take notice. The Sixers, Rockets, Pelicans, Pacers, and Thunder make up that group.
As for the Clippers, it will be fascinating to see who replaces Rivers on the team's bench for the 2020/21 campaign. Assistants Tyronn Lue and Sam Cassell have been linked to other coaching vacancies and may be candidates for promotions, but the franchise figures to be deliberate in its search — with Leonard and George eligible for free agency in 2021, it will be imperative for the Clips to find a head coach capable of connecting with those stars and leading the roster to title contention next season.
Photo courtesy of USA Today Sports Images.