Throughout the season, Hoops Rumors takes a closer look at players who will be free agents or could become free agents this off-season. With the playoffs ongoing at the Orlando campus, it's time to examine if their stock is rising or falling due to performance and other factors.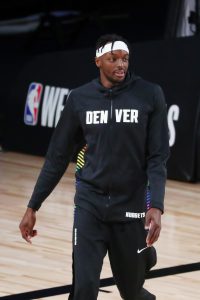 Jerami Grant, Nuggets, 26, PF (Up) – Signed to a three-year, $27.3MM deal in 2018
The Nuggets are on the verge of elimination again despite the increased offensive production of Grant. He scored a playoff-high 26 points in Denver's lone win against the Lakers in Game 3, then added 17 points in Game 4. The trust that coach Michael Malone has in Grant defensively against the Lakers' jumbo lineups was apparent – he played a total of 77 minutes in those two games. Grant has a $9.35MM option on his contract for next season. Prior to the restart, Grant said he was likely to decline it and test the free agent waters. It's doubtful he's changed his mind.
Dwight Howard, Lakers, 34, C (Up) – Signed to a one-year, $2.56MM deal in 2019
Howard piled up more fouls than points in Games 2 and 3 against Denver. Instead of Howard losing playing time, coach Frank Vogel surprisingly decided to start him in Game 4. The former Defensive Player of the Year delivered a double-double (12 points, 11 rebounds) in 23 minutes. He's a dinosaur by current NBA standards – an aging center who can't stretch defenses. But every once awhile, Howard reminds everyone he can still be a factor. It's easy to see the Lakers signing him to another short-term deal.
Dion Waiters, Lakers 28, SG (Down) – Signed to a one-year, $500K deal in 2020
Waiters got a chance to revive his career when the Lakers signed him to a rest-of-the season contract in March. The opportunity was there for Waiters to crack the rotation in the postseason but ineffectiveness and a groin injury have rendered him a non-factor. He's only appeared in five playoff games, totaling 10 points (no threes) in 38 minutes. Given his controversial history, the fourth overall pick of the 2012 draft will probably be scrounging for a veteran's minimum deal.
Derrick Jones, Heat, 23, SF (Down) – Signed to a two-year, $3.16MM deal in 2018
It's been a rough restart for Jones. He had a bout with the coronavirus, then suffered a neck strain during a collision in the seeding games. He also dealt with an ankle injury during the opening round of the playoffs. His biggest problem now is he's out of the rotation. The emergence of Tyler Herro and the presence of veterans Jae Crowder and Andre Iguodala has limited him to a total of 30 unspectacular minutes against Boston. Jones will be an unrestricted free agent and he'll draw some interest, but his price tag may have dropped this summer.
Photo courtesy of USA Today Sports Images.