Rockets head coach Mike D'Antoni has informed team ownership that he intends to become a coaching free agent and won't return to Houston next season, reports ESPN's Adrian Wojnarowski.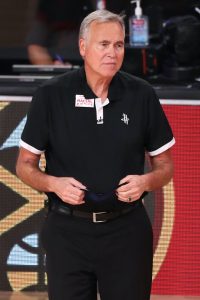 D'Antoni had been on an expiring contract, having turned down extension offers from the Rockets prior to the season.
General manager Daryl Morey had said after Houston's Game 1 win over the Lakers in the second round that the team wanted to retain D'Antoni. However, there was always a sense that the two sides may not continue their relationship, especially since Houston's preseason extension offers were short-term and included incentives. That sense only increased after the Rockets lost four straight games to the Lakers and were eliminated from the postseason.
D'Antoni, who joined the Rockets in 2016, led the organization to a 217-101 (.682) record over four seasons and won at least one playoff series in each of those four years, earning Coach of the Year honors in 2017.
Despite championship aspirations during that time, the club never got over the hump and reached the NBA Finals, having been eliminated twice by the Warriors, once by the Spurs, and now once by the Lakers.
Having confirmed his departure from Houston in a statement (link via Woj), D'Antoni is now expected to be among the candidates considered by the Sixers as they seek a new head coach, per ESPN. Kevin O'Connor of The Ringer tweets that there have been rumblings for weeks that D'Antoni may be headed to the Pelicans, though an earlier report suggested those rumors may be overstated. He has also been linked to the Pacers.
The Rockets, meanwhile, are likely to take a close look at Tyronn Lue as they weigh potential replacements for D'Antoni, according to Chris Haynes of Yahoo Sports (Twitter link).
Photo courtesy of USA Today Sports Images.