The Nets have hired former two-time MVP Steve Nash as their new head coach, reports Marc Stein of The New York Times (Twitter link). Nash has signed a four-year contract from the club, according to ESPN's Adrian Wojnarowski. The team has confirmed the hire in a press release.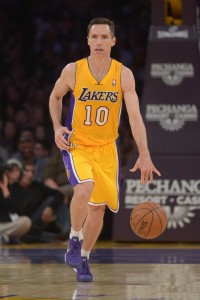 "After meeting with a number of highly accomplished coaching candidates from diverse backgrounds, we knew we had a difficult decision to make," Nets general manager Sean Marks said in a statement. "In Steve we see a leader, communicator and mentor who will garner the respect of our players.
"I have had the privilege to know Steve for many years. One of the great on-court leaders in our game, I have witnessed firsthand his basketball acumen and selfless approach to prioritize team success. His instincts for the game, combined with an inherent ability to communicate with and unite players towards a common goal, will prepare us to compete at the highest levels of the league."
Former head coach Jacque Vaughn, who took the reins from Kenny Atkinson in March and received consideration for the permanent job, will remain with the franchise as the lead assistant on Nash's staff, as reported by Wojnarowski and confirmed by the club. He'll become the highest-paid assistant in the NBA, according to Woj, who says that Vaughn likely would've earned the permanent job if Nash hadn't been available.
The hiring of Nash comes as a major surprise — not only was he not previously mentioned as a potential candidate for Brooklyn, but it wasn't clear he was even interested in an NBA head coaching job. He has worked in recent years as a consultant for the Warriors, where he developed a relationship with Kevin Durant, who had a voice in the Nets' search process.
As Wojnarowski explains, Nets owner Joseph Tsai and Marks were "aggressive" in their efforts to recruit Nash. The Hall-of-Fame point guard has received overtures in recent years from teams interested in hiring him to a coaching or front office role, per Woj. Nash said today in a statement that coaching was something he always wanted to pursue "when the time was right."
Nash, who has no previous coaching experience, will assume control of a Nets team that will enter the 2020/21 season with a healthy Durant and Kyrie Irving and has championship aspirations. As a former MVP who played in an NBA All-Star game as recently as 2012, Nash will presumably command the respect of Brooklyn's stars and other veterans.
With Nash installed as their head coach, the Nets will no longer move forward with their rumored pursuit of Gregg Popovich, so it looks like a safe bet that Popovich will continue coaching the Spurs. The Nets' decision also takes one potential suitor off the table for Tyronn Lue, who is expected to be one of the year's hottest coaching candidates and has reportedly drawn interest from the Pelicans and Sixers in addition to Brooklyn.
Photo courtesy of USA Today Sports Images.