Every player who finishes a season as a member of an NBA roster gets some form of Bird rights as a free agent, allowing his team to go over the cap to re-sign him. However, a player who spent just one year with his club typically only has Non-Bird rights, which are the weakest form of Bird rights, as their oxymoronic name suggests.
With the Non-Bird exception, a team can re-sign a player for up to four years and give him a raise, but that raise has to be a modest one. Non-Bird rights allow for a starting salary worth up to 120% of the player's previous salary or 120% of the minimum salary, whichever is greater.
In other words, a Non-Bird free agent who earned $5MM can only get a starting salary worth up to $6MM on his new deal unless his team uses cap room or another exception (such as the mid-level) to bring him back.
This cap restriction will apply specifically to a handful of players around the NBA who may be in line for raises this summer. Because these players will be Non-Bird free agents, it may be a challenge for their teams to re-sign them without cap room or an exception like the bi-annual or mid-level.
Let's take a closer look at five players who will fall into this category this offseason…
---
Markieff Morris, F, Lakers
Dwight Howard, C, Lakers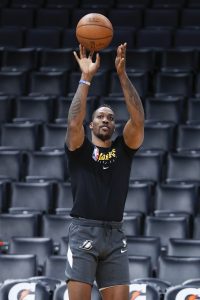 During their run to the NBA Finals, the Lakers have matched up with talented opposing centers such as Nikola Jokic, Jusuf Nurkic, and Bam Adebayo, while also facing a Rockets team that doesn't use a traditional center. Anthony Davis has, of course, been the most important factor in the Lakers winning those frontcourt battles, but Morris and Howard have played major roles as well, proving their value as role players on a championship-caliber team.
Morris signed a $1.75MM contract during the season, while Howard's one-year deal is worth the veteran's minimum, so neither player can sign for more than 120% of the minimum if the over-the-cap Lakers hope to use their Non-Bird rights. If the cap doesn't increase, that would mean a max of $2.8MM for Morris and $3.08MM for Howard.
My assumption is that both players would be able to do better than that on the open market. So if they're not willing to accept team-friendly discounts to remain in Los Angeles, the Lakers may have to dip into their mid-level exception (projected to be worth $9.26MM) to try to re-sign one or both players.
Carmelo Anthony, F, Trail Blazers
Anthony's NBA career appeared to be on the verge of ending before he worked out a minimum-salary deal with Portland. He outperformed that modest contract, with 15.4 PPG and 6.3 RPG on .430/.385/.845 shooting in 58 games (all starts) for the Trail Blazers in 2019/20.
Like Howard, Anthony would be limited to a '20/21 salary of $3.08MM via his Non-Bird rights. If the Blazers need to go higher than that to retain him, they'll have to repeat a move they used last summer, when they re-signed Non-Bird free agent Rodney Hood with their taxpayer mid-level exception in order to give him a raise.
Jeff Green, F, Rockets
Green was underwhelming during his brief stint with Utah early in the 2019/20 season, but he thrived in Houston, averaging 12.2 PPG on .564/.354/.857 shooting in 18 games (22.6 MPG) as part of the club's micro-ball lineup. He was nearly as good in the postseason, with 11.6 PPG on .495/.426/.824 shooting in an increased role (28.6 MPG).
Green hasn't signed a contract worth more than the minimum since 2016, so it's possible that's all it will take for Houston or another team to sign him this fall. That'd be a best-case scenario for the Rockets, given how well he fit in their system down the stretch — topping any rival offer exceeding $3.08MM would mean dipping into the mid-level or bi-annual.
Reggie Jackson, G, Clippers
Like most players on the buyout market, Jackson signed a minimum-salary contract with the Clippers to finish out the season, meaning the team will be limited to an offer starting at about $2.8MM.
Jackson was pretty good for the Clippers in 17 regular season games, knocking down 41.3% of his three-point attempts and chipping in 9.5 PPG and 3.2 APG. But he fell out of the rotation in the second round of the playoffs vs. Denver, and the Clippers will likely be looking to upgrade the point guard position this fall. A reunion probably doesn't make sense for either side, especially if Jackson can get offers exceeding the Non-Bird limit.
---
Photo courtesy of USA Today Sports Images.