Nets guard Spencer Dinwiddie has sustained a partially torn ACL in his right knee, the team announced in a press release. He'll undergo surgery to repair the injury next week.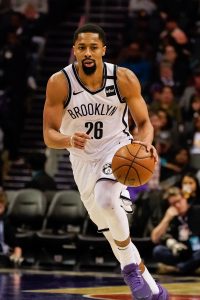 According to Shams Charania of The Athletic (Twitter link), Dinwiddie is expected to make a full recovery by the start of the 2021/22 season. The team said in its press release that further updates on the 27-year-old's recovery timeline would be issued after surgery, but it seems likely that he'll miss the rest of the '20/21 season.
It's a brutal blow for the Nets and for Dinwiddie, who suffered the injury during Sunday's loss to Charlotte when he planted his right leg awkwardly during a drive. It was originally diagnosed as a knee strain, but the Nets cautioned that further testing would be conducted today. Those tests apparently showed the partial tear in his ACL.
Dinwiddie enjoyed a career-best season with the Nets last year, averaging 20.6 points and 6.8 assists per game. He could enter unrestricted free agency by declining a player option worth $12.3MM for '20/21.
Dinwiddie emerged as a starter this season and was expected to be a third ball-handler alongside the likes of Kyrie Irving and Kevin Durant. The team remains one of the deepest in the East, with Caris LeVert, Jeff Green and Taurean Prince as candidates to take Dinwiddie's place in the starting lineup.
Assuming the Nets expect Dinwiddie to be out for the season, they can apply for a disabled player exception worth roughly $5.72MM. As we noted over the weekend, the final day to apply for this exception falls on March 3 this season, and teams have until mid-April to use their DPEs.
Photo courtesy of USA Today Sports Images. JD Shaw contributed to this story.