The Raptors won a title in 2019, came within one win of the Eastern Conference Finals in 2020, and had been a playoff team for seven consecutive seasons entering 2020/21. So it was a bit of a surprise that the club fell off so drastically, winning just 27 games this season after piling up 53 victories in '19/20.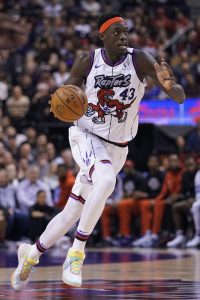 A number of factors contributed to the Raptors' plunge down the standings. The team lost Marc Gasol and Serge Ibaka in free agency and their replacement centers (Aron Baynes and Alex Len) didn't really work out. The club was hit by injuries and a midseason COVID-19 outbreak. And perhaps most notably, the Raptors played all their home games in Tampa, having been displaced from Toronto by border restrictions related to the coronavirus pandemic. Every NBA team was affected by COVID-19, but no other club was subjected to what amounted to a six-month road trip.
It was a disappointing year for a franchise that hadn't won fewer than 48 games in a season since 2012/13, but with core players like Pascal Siakam, Fred VanVleet, and OG Anunoby locked up long-term, there's reason to believe Toronto won't be back in the lottery a year from now.
---
The Raptors' Offseason Plan:
The Raptors' decision not to push too hard for a play-in spot late in the regular season paid off, as the team got some luck on lottery night and secured the No. 4 overall pick. The dream scenario would be two-way big man Evan Mobley falling to Toronto, but Jalen Green or Jalen Suggs would be a fine consolation prize.
President of basketball operations Masai Ujiri and general manager Bobby Webster may consider trading up or down, but given how highly those top four prospects are regarded by scouts and draft experts, the safest and easiest play would be to stand pat and select whichever one drops to No. 4.
Speaking of Ujiri, there has still been no word on a potential contract extension for the former Executive of the Year, whose deal with the Raptors expires this summer. But there's also been little indication that he plans to move on from the franchise. He's perhaps the Raptors' most important "free agent" this summer, and signing him to a new long-term deal would be a major win for the organization.
Kyle Lowry also has a claim to the title of Toronto's most important free agent. One of the greatest players in team history, Lowry has been with the Raptors since 2012, making six All-Star teams during that time and playing a key role on 2019's championship squad.
Lowry was nearly moved at the trade deadline, but no team was willing to meet Toronto's asking price. Having failed to acquire any assets for Lowry at that point, the Raptors may feel more compelled this summer to either bring him back on a new contract or work out a sign-and-trade deal with his new team, rather than losing him for nothing. The 35-year-old clearly has an affinity for Toronto, but may want to join a club that's a little closer to title contention. His free agency will be one of the most interesting cases to watch this offseason.
If they don't land Mobley in the draft, acquiring a big man via trade or free agency will be high on the Raptors' list of summer priorities. Depending on what happens with Lowry, the team could have some cap room available to address that issue.
Re-signing RFA-to-be Gary Trent Jr., acquired in a deadline deal with Portland, will also be high on Toronto's to-do list.
---
Salary Cap Situation
Note: Our salary cap projections are based on a presumed 3% increase, which would result in a $112.4MM cap for 2021/22.
Guaranteed Salary
Pascal Siakam ($33,003,936)
Fred VanVleet ($19,675,926)
OG Anunoby ($16,071,429)
Malachi Flynn ($2,048,040)
Total: $70,799,331
Player Options
Team Options
Non-Guaranteed Salary
Rodney Hood ($10,851,246) 1
Aron Baynes ($7,350,000) 2
Chris Boucher ($7,020,000) 3
DeAndre' Bembry ($1,977,011) 4
Yuta Watanabe ($1,762,796) 5
Paul Watson ($1,701,593) 6
Freddie Gillespie ($1,517,981)
Total: $32,180,627

Restricted Free Agents
Gary Trent Jr. ($4,736,102 qualifying offer / $4,736,102 cap hold): Bird rights
Nando De Colo ($1,828,750 qualifying offer / $1,901,900 cap hold): Early Bird rights 7
Total (cap holds): $6,638,002

Two-Way Free Agents
Draft Picks
No. 4 overall pick ($7,280,520)
No. 46 overall pick (no cap hold)
No. 47 overall pick (no cap hold)
Total: $7,280,520
Extension-Eligible Players
Unrestricted Free Agents / Other Cap Holds
Kyle Lowry ($39,344,970): Bird rights 8
Lucas Nogueira ($8,841,915): Bird rights 7
Stanley Johnson ($4,945,395): Early Bird rights
Khem Birch ($1,669,178): Non-Bird rights
Jeremy Lin ($1,669,178): Non-Bird rights 7
Jodie Meeks ($1,669,178): Non-Bird rights 7
Jason Thompson ($1,669,178): Non-Bird rights 7
Total: $59,808,992

Offseason Cap Outlook

Depending on whether they bring back Lowry, the Raptors could operate either over or under the cap this summer. Accounting for their four guaranteed contracts and Boucher's non-guaranteed salary, along with cap holds for Trent and the No. 4 pick, would leave the Raptors with approximately $18MM in cap room, assuming everyone else (including Lowry) is renounced or waived.
My best guess for now is that the Raptors will enter free agency expecting to operate over the cap in order to either re-sign Lowry or get something back in a sign-and-trade for him. But that plan could change quickly if Lowry goes to a team with the cap room to sign him outright — or if the Raps believe the veteran guard will leave and decide their own potential cap space is worth more than his sign-and-trade rights.
Cap Exceptions Available
Mid-level exception: $9,536,000 9
Bi-annual exception: $3,732,000 9
Trade exception: $1,517,981
Trade exception: $1,517,981
Footnotes
Hood's salary becomes fully guaranteed after July 27.
Baynes' salary becomes fully guaranteed after August 5.
Boucher's salary becomes fully guaranteed after August 8.
Bembry's salary becomes fully guaranteed after August 10.
Watanabe's salary becomes partially guaranteed ($375K) after August 9.
Watson's salary becomes fully guaranteed after August 6.
The cap holds for these players remain on the Raptors' books from prior seasons because they haven't been renounced. They can't be used in a sign-and-trade deal.
This is a projected value. Lowry's cap hit will be the maximum salary for a player with 10+ years of NBA service.
These are projected values. If the Raptors decide to operate under the cap, they'd forfeit these exceptions and their trade exceptions and would gain access to the room exception ($4.9MM).
Salary and cap information from Basketball Insiders, RealGM, and ESPN was used in the creation of this post.