Bird rights offer teams the chance to sign their own free agents without regard to the salary cap, but they don't apply to every player. Other salary cap exceptions are available for teams to keep players who don't qualify for Bird rights. One such exception is the Early Bird, which applies to players formally known as Early Qualifying Veteran Free Agents.
While the Bird exception is for players who have spent three seasons with one club without changing teams as a free agent, Early Bird rights are earned after just two such seasons. Virtually all of the same rules that apply to Bird rights apply to Early Bird rights, with the requirements condensed to two years rather than three. Players still see their Bird clocks restart by changing teams via free agency, being claimed in an expansion draft, or having their rights renounced.
As is the case with Bird rights, a player's clock stops when he's released by a team and clears waivers, but it would pick up where it left off if he re-signs with that same team down the road without joining another club in the interim. For instance, if Glenn Robinson III – released by the Kings earlier this season before the end of his one-year contract – were to sign a new one-year deal with Sacramento during the 2021 offseason, the team would have his Early Bird rights in the 2022 offseason.
The crucial difference between Bird rights and Early Bird rights involves the limitations on contract offers. Bird players can receive maximum-salary deals for up to five years, while the most a team can offer an Early Bird free agent without using cap space is 175% of his previous salary (up to the max) or 105% of the league-average salary in the previous season, whichever is greater.
These offers are also capped at four years rather than five, and the new contracts must run for at least two years — the second year can be non-guaranteed, but can't be a team or player option.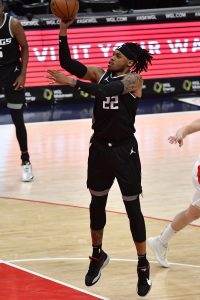 Richaun Holmes (Kings), Danny Green (Sixers), Derrick Rose (Knicks), T.J. McConnell (Pacers), and Enes Kanter (Trail Blazers) are among the most notable free agents who will have Early Bird rights at the end of the 2020/21 season.
In some instances, teams can benefit from having Early Bird rights instead of full Bird rights if they're trying to preserve cap space. The cap hold for an Early Bird player is 130% of his previous salary, significantly less than most Bird players, whose cap holds range from 150-300% of their previous salaries.
That could help a team like the Knicks, who project to have cap space in the 2021 offseason. The cap hold for Rose, who is earning $7.68MM this season, will be a shade under $10MM. His starting salary on a new deal could be higher than that.
If the Knicks reach an agreement to re-sign Rose near the start of free agency, they could wait to make it official, keeping his cap hold on the books until they use the rest of their cap room, maximizing that space. Then they could go over the cap to finalize Rose's deal using the Early Bird exception.
However, having a player's Early Bird rights instead of his full Bird rights puts a team at a disadvantage in other cases. For instance, when Christian Wood reached free agency last offseason, his Early Bird rights only allowed the Pistons to offer a starting salary of up to about $10.05MM, a figure the Rockets topped in their three-year, $41MM offer.
In order to match or exceed that number, Detroit would have had to use cap room — having Wood's full Bird rights would've allowed the Pistons to make a far more substantial offer without cap space. The Kings could find themselves in a similar dilemma with Holmes this summer.
Meanwhile, some players with limited NBA experience are subject to a special wrinkle involving Early Bird rights, called the Gilbert Arenas Provision, which applies to players who have only been in the league for one or two years. We cover the Arenas Provision in a separate glossary entry, so you can read up on the details there. It would apply this offseason to a player like Lakers wing Talen Horton-Tucker.
Finally, one more distinction between Bird rights and Early Bird rights applies to waivers. Players who are claimed off waivers retain their Early Bird rights, just as they would if they were traded. Those who had Bird rights instead see those reduced to Early Bird rights if they're claimed off waivers. This rule stems from a 2012 settlement between the league and the union in which J.J. Hickson was given a special exception and retained his full Bird rights for the summer of 2012 even though he had been claimed off waivers that March.
Note: This is a Hoops Rumors Glossary entry. Our glossary posts will explain specific rules relating to trades, free agency, or other aspects of the NBA's Collective Bargaining Agreement. Larry Coon's Salary Cap FAQ and salary information from Basketball Insiders was used in the creation of this post.

Earlier versions of this post were published in previous years by Luke Adams and Chuck Myron. Photo courtesy of USA Today Sports Images.