3:50pm: The Pacers have made it official, announcing in a press release that they've hired Carlisle.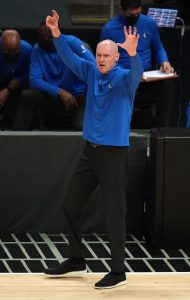 "Rick is a proven winner with a championship and will be a Hall of Fame coach," Pacers president of basketball operations Kevin Pritchard said in a statement. "He has demonstrated throughout his career an ability to build something with sustainable success. He has great respect for our franchise and our fans from his previous times here. We are very happy to welcome him back to Indiana."
---
10:13am: The Pacers are hiring Rick Carlisle as their new head coach, according to Tim MacMahon of ESPN, who reports (via Twitter) that Carlisle will sign a four-year contract worth $29MM.
It's a reunion for the Pacers and Carlisle. He was an assistant coach on Larry Bird's staff in Indiana from 1997-2000 and became the team's head coach from 2003-07 before moving on to Dallas.
For the last 13 years, Carlisle has been the Mavericks' head coach, leading the team to a title in 2011 and compiling an overall regular season record of 555-478 (.537). Taking into account previous head coaching stints in Detroit and Indiana, Carlisle has an overall regular season mark of 836-689 (.548), putting him 15th in career wins among all NBA head coaches.
Carlisle stepped down from his position as the Mavs' head coach earlier this month and there was a sense at the time that he might have another opportunity lined up. Given his history with the Pacers, a return to Indiana makes sense — especially since the organization was seeking an experienced leader after its experiment with first-time head coach Nate Bjorkgren failed after just one year.
Steve Clifford, Brian Shaw, and Terry Stotts were among the other candidates considered by the Pacers, who will pay a premium to bring in Carlisle. Scott Agness of Fieldhouse Files notes (via Twitter) that the new coach's reported salary will be about twice what Frank Vogel and Nate McMillan received during their stints as Indiana's head coach. The club is also still paying Bjorkgren for another year.
Although Carlisle still had two years left on his contract with Dallas when he resigned, the Mavs had indicated they wouldn't seek compensation from a team that hired him, so the Pacers won't have to give up any assets to finalize the deal.
Carlisle will be tasked with turning a veteran-heavy Pacers squad that missed the playoffs this year into a legit contender in the Eastern Conference. While the team may shake up its roster a little this summer – a Myles Turner trade remains a possibility – there's an expectation that most key players, including Domantas Sabonis, Caris LeVert, Malcolm Brogdon, and T.J. Warren, should be back.
Now that the Pacers and Celtics (Ime Udoka) have made decisions on new head coaches, there are five teams still conducting active searches. Those teams are the Wizards, Pelicans, Magic, Mavericks, and Blazers.