Players and teams have to meet certain criteria to earn Bird rights and Early Bird rights, but Non-Bird rights are practically a given. They apply to a player who has spent a single season or less with his team, as long as he finishes the season on an NBA roster. Even a player who signs on the last day of the regular season and spends just one day with his club would have Non-Bird rights in the offseason.
Teams can also claim Non-Bird rights on Early Bird free agents if they renounce them. The primary motivator to do so would be to allow the team to sign the free agent to a one-year contract, a move that's not permitted via Early Bird rights.
Teams are eligible to sign their own free agents using the Non-Bird exception for a salary starting at 120% of the player's previous salary, 120% of the minimum salary, or the amount of a qualifying offer (if the player is a restricted free agent), whichever is greatest. Contracts can be for up to four years, with 5% annual raises.
The cap hold for a Non-Bird player is 120% of his previous salary, unless the previous salary was the minimum. In that case, the cap hold is equivalent to the two-year veteran's minimum salary. If a Non-Bird free agent only has one year of NBA experience, his cap hold is equivalent to the one-year veteran's minimum salary.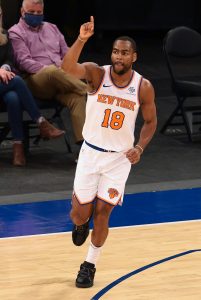 The salary limitations that apply to Non-Bird rights are more severe than those pertaining to Bird rights or Early Bird rights, so in many cases, the Non-Bird exception may not be enough to retain a well-regarded free agent. For instance, the Sixers held Alec Burks's Non-Bird rights last summer, but couldn't have used them to match or exceed the offer the veteran wing received from the Knicks.
Because Burks had been on a minimum-salary contract in 2019/20, Philadelphia's ability to offer a raise using the Non-Bird exception was extremely limited — the 76ers would have only been able to offer 120% of the veteran's minimum using his Non-Bird rights, whereas the Knicks' $6MM offer easily topped that. If they'd badly wanted to retain Burks, the 76ers would have had to use cap room or another exception to make a competitive offer.
The Lakers will be in a similar situation this offseason with Andre Drummond, who will only have Non-Bird rights. If L.A. wants to retain Drummond, the team will have to use cap room or its mid-level exception to make its best offer, since they'll be limited to a starting salary in the $3MM range via the Non-Bird exception.
Holding Non-Bird rights on a free agent didn't really help the Sixers with Burks and it won't help the Lakers with Drummond, but there are cases in which the exception proves useful.
For instance, the Clippers only had Non-Bird rights on Marcus Morris last offseason, but because his '19/20 salary was $15MM, Los Angeles was able to offer a starting salary worth any amount up to $18MM (120% of his previous salary). That gave the club plenty of flexibility to re-sign Morris without using cap room or another exception — he received a four-year, $64MM contract.
Another deal completed by the Clippers in November provides an example of a team using Non-Bird rights on a minimum-salary player. Patrick Patterson, whose minimum salary would have been $2,564,753 in 2020/21, was eligible to sign for up to 120% of that amount via the Non-Bird exception. As such, his one-year deal with Los Angeles is worth $3,077,704.
Finally, it's worth noting that a player who re-signs with his previous team on a one-year deal and will have Early Bird or Bird rights at the end of that contract would surrender those rights if he consents to a trade. In that scenario, he'd only finish the season with Non-Bird rights.
This happened to James Ennis in 2020, when he agreed to a trade that sent him from Philadelphia to Orlando. Ennis would have had Early Bird rights if he had finished the season with the Sixers, but allowing the trade meant he only had Non-Bird rights during the 2020 offseason. As a result, the Magic had to use a portion of their mid-level exception to re-sign him to a one-year, $3.3MM deal that could've otherwise been completed with the Early Bird exception.
Note: This is a Hoops Rumors Glossary entry. Our glossary posts will explain specific rules relating to trades, free agency, or other aspects of the NBA's Collective Bargaining Agreement. Larry Coon's Salary Cap FAQ was used in the creation of this post.
Earlier versions of this post were published in previous years by Luke Adams and Chuck Myron. Photo courtesy of USA Today Sports Images.