12:55pm: The Wizards have officially announced in a press release that they won't extend Brooks' contract and that they'll immediately begin the search for a new head coach.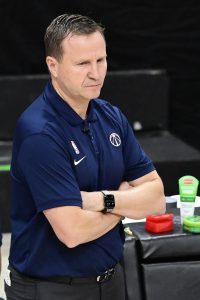 "We have been committed to taking the proper steps over the last two seasons to develop our young players, bring in pieces to complement Bradley Beal and build a winning environment that will ultimately lead to sustained on-court success," general manager Tommy Sheppard said in a statement. "Our organization will always be grateful to Scott for his dedication and work both on the court and in the community over the past five years and I personally admire and respect how he helped keep our team together during the unprecedented events of the last 15 months."
---
10:29am: The Wizards and Scott Brooks couldn't reach an agreement on a new contract for the veteran head coach and have agreed to part ways, reports ESPN's Adrian Wojnarowski (Twitter link). Brooks' deal with Washington expired at the end of the 2020/21 season.
Brooks, formerly the coach of the Thunder, joined Washington ahead of the 2016/17 campaign and led the team to a 49-33 regular season record in his first season. That team came within one game of earning a spot in the Eastern Conference Finals, but Brooks' squads took a step backward in subsequent years, compiling a 134-174 record (.435) over the next four seasons.
Halfway through this season, it seemed Brooks might become the first coach fired in 2021, perhaps even before the regular season ended. The Wizards had a 17-32 record and looked dead in the water, far removed from the playoff picture. However, a second-half surge saw the Wizards finish the season on a 17-6 run, earning them a play-in spot, which they parlayed into a playoff berth.
The late-season run – along with endorsements from Russell Westbrook and Bradley Beal – helped convince the Wizards to seriously consider extending their relationship with Brooks — both Wojnarowski and Chris Mannix of SI.com (Twitter link) suggest ownership was discussing the possibility of a new deal. However, the two sides weren't able to agree to terms and the club will now be in the market for a new head coach.
The Wizards are the sixth team to launch a head coaching search this offseason, joining the Celtics, Pacers, Magic, Trail Blazers, and Pelicans. Now a free agent, Brooks could emerge as a candidate for one of those other jobs, though there has been no reporting linking him to any of them yet.
As for Brooks' replacement in D.C., no frontrunners have been identified so far, but it seems like a safe bet that Westbrook and especially Beal will have a voice in the club's hiring process.