The Spurs are preparing for longtime head coach Gregg Popovich to retire within the next year or two, league sources tell Jordan Schultz of ESPN (Twitter link).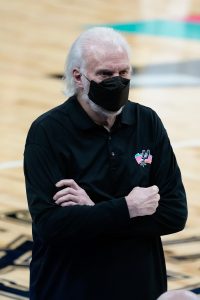 According to Schultz, the organization is beginning an "extensive" search to identify Popovich's successor. That search will cover both external and internal candidates.
In the years leading up to the Tokyo Olympics, there had been speculation that the event would be Popovich's swan song. However, even after leading Team USA to gold in Japan following a one-year delay, he's returning to the sidelines in San Antonio for the 2021/22 season.
Two recent reports have suggested this could be Popovich's last season as the Spurs' head coach, but both Zach Lowe of ESPN and Jake Fischer of Bleacher Report warned not to rule out the possibility of the 72-year-old sticking around for another year beyond that. Based on Schultz's report, it sounds like two more years would be the longest Popovich would continue coaching.
Lowe's story last month stated that former Spurs assistant Will Hardy and former San Antonio star Manu Ginobili are the two candidates most frequently mentioned in league circles as candidates to succeed Popovich, despite the fact that it's unclear whether Ginobili has legitimate interest in coaching. Current Spurs assistants – including Becky Hammon – are also believed to be candidates, along with former Popovich assistants such as Brett Brown and Jacque Vaughn, per Fischer.
Unlike most teams that decide to part ways with a coach at the end of a season – or during a season – the Spurs will be able to take their time with their search, with no need to finalize a decision in a matter of weeks or even months. And unlike most coaches who part ways with NBA organizations, Popovich seems likely to have some input on who his replacement will be.
Popovich is the oldest head coach in NBA history and one of only two coaches in league history that has held the job in his 70s.
He has been the Spurs' head coach since December of 1996, making him the NBA's longest-tenured head coach by more than a decade. Erik Spoelstra of the Heat, who took the reins in April 2008, is the league's second-longest tenured coach. No other coaches have held their current job further back than 2014.