1:56pm: Alvin Gentry will become the interim coach of the Kings, per Sam Amick of The Athletic (Twitter link). He was previously serving as associate head coach under Walton.
Gentry's last stint as a head coach was with the Pelicans from 2015-20, compiling a 175-225 record in five seasons before being fired. He has a total win-loss record of 510-595 across 17 partial seasons with the Heat, Pistons, Clippers, Suns and Pelicans. His most successful team was the 2009/10 Suns, who reached the Western Conference Finals and lost to the eventual champion Lakers in six games.
---
12:06pm: The Kings have fired head coach Luke Walton, according to Adrian Wojnarowski of ESPN.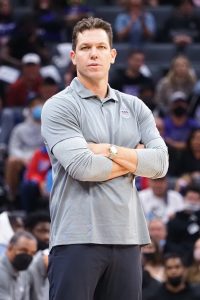 The Kings have struggled in the early portion of the season, losing seven of their past eight games and currently sit with a 6-11 record. They lost some seemingly winnable games during the slide, including games to the Pacers, Spurs, Thunder, and Raptors.
The team went 31-41 in each of the past two seasons under Walton, so he compiled a 68-93 overall record with the Kings. He's under contract for one more year beyond this season and the team will be on the hook for the remainder of his salary.
Woj also relays that Alvin Gentry, the team's associate head coach, is a strong candidate to serve as the interim coach. However, he hedged that statement by noting that a decision has yet to be made (Twitter link).
Another possible candidate to serve as interim coach is former Kings player and first-year assistant Doug Christie, Woj tweets.
We noted earlier today that Kings fans have been regularly chanting "fire Luke Walton" at home games and there was a report last week that indicated the head coach was firmly on the hot seat. There has been increasing urgency for the Kings to snap their 15-year playoff drought. The front office views the current roster as one capable of making the postseason, hence why Walton was fired after a 6-11 start.
It's tough to see the team making the playoffs outright as a top-six seed, especially having started five games under .500. There are definitely talented players among the group, but the fit is questionable. It will be interesting to see if this decision has any impact on trade talks, or if the Kings will stick with the roster they have.
Sacramento was consistently a bottom-tier defensive team under Walton; the club ranked 20th in defensive rating in 2019/20, 30th last season, and 23rd through 17 games this season. It ranked 27th, 30th, and 24th in total rebounds across the same time period. Obviously not all of that is on the coach, but it's partly why the Kings have struggled to compete at the level they were hoping for.