With the NBA's February 10 trade deadline around the corner, we're taking a closer look at all 30 teams, breaking down their potential plans for the deadline and identifying their most likely trade candidates. We're focusing today on the Atlantic Division.
---
Boston Celtics
Trade deadline goals:
Despite some speculation that the Celtics may consider breaking up their wing duo of Jayson Tatum and Jaylen Brown, it doesn't appear that's a realistic possibility at this year's trade deadline. Maybe Boston starts to weigh the idea more seriously in the 2022 offseason or at the 2023 deadline, but for now, the plan is to build around Tatum and Brown — and to find the right pieces to complement the two young stars.
The 26-25 Celtics likely won't be strong buyers or strong sellers, since they're a ways from title contention but have too much talent to bottom out and compete for a top draft pick.
Besides acquiring players who are good fits alongside Tatum and Brown, the Celtics appear motivated to trim team salary a little, both this year and next. An in-season trade of Juan Hernangomez moved Boston closer to escaping the luxury tax, but it's unclear exactly how much more salary the club will have to shed to sneak under the tax line.
If Brown appears in 65+ games and makes the All-Star team, he'll earn bonuses that push the Celtics approximately $2.75MM over the tax; if not, the C's will only be over the tax threshold by about $850K. In the latter scenario, the team could salary-dump a single player to avoid being a taxpayer.
Top trade candidates: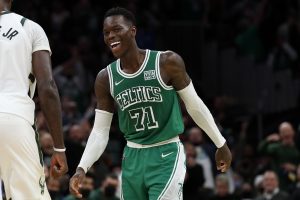 Dennis Schröder is the most obvious trade candidate on the Celtics' roster. He's on a one-year contract, isn't an ideal fit with Tatum and Brown, and seems unlikely to remain in Boston beyond this season. His $5.9MM expiring deal shouldn't be difficult to move.
Al Horford and Josh Richardson have been mentioned in trade rumors in recent weeks, which is perhaps an indication that the Celtics may be looking to clear some money off their 2022/23 cap. Horford is owed a partial guarantee of $14.5MM on his $26.5MM salary for next season, while Richardson has a guaranteed $12.2MM cap hit. Both players would be unrestricted free agents in 2023.
Schröder, Horford, and Richardson aren't Boston's only trade candidates — anyone outside of Tatum and Brown could probably be had. I wouldn't expect young center Robert Williams to go anywhere, but it wouldn't be surprising to see any other young Celtics on the move, including former lottery picks Aaron Nesmith and Romeo Langford.
Longtime Celtic Marcus Smart is also the subject of more trade rumors this season, but president of basketball operations Brad Stevens values the veteran guard highly and won't trade him without getting a strong return.
The Celtics have a series of sizeable trade exceptions that could be used to accommodate certain players and deals, but their tax concerns will reduce their options with those exceptions.
---
Brooklyn Nets
Trade deadline goals:
Kevin Durant is injured. Kyrie Irving is ineligible to play in home games. And James Harden is reportedly looking forward to testing the free agent market this summer.
It's not an ideal situation for Brooklyn's Big Three, but the odds of any of those three players being traded by February 10 are slim to none.
If and when they get Durant, Irving, and Harden on the court at the same time, the Nets still look like they could be the team to beat in the East. So any moves they make at the deadline will probably be tweaks around the edges of their roster, rather than something drastic.
Top trade candidates:
The Nets are working with Paul Millsap's camp to try to find a new home for the veteran big man, who hasn't seen much action in his first year in Brooklyn, and hasn't been very effective when he has played.
Brooklyn reportedly wants to get something of value in return for Millsap, but should probably be satisfied if it can get off the minimum-salary contract without attaching an asset or taking back any salary. That would open up a spot on the 15-man roster for the team to promote Kessler Edwards from his two-way contract and make sure he's playoff-eligible.
Besides Millsap, Nic Claxton, Bruce Brown, and Jevon Carter are among the other Nets players whose names have popped up in trade rumors.
Claxton and Brown are free agents at season's end, so if Brooklyn isn't comfortable with giving them new deals and can improve this year's roster by moving them, perhaps there's a deal to be made. Carter, who is out of the rotation, is more expendable — based on how this season has gone, the team may welcome the opportunity to get off his $3.9MM salary for 2022/23.
---
New York Knicks
Trade deadline goals:
Even though the roster didn't undergo major offseason changes, this season's Knicks haven't been able to recapture the magic that last season's squad generated. The 24-27 team has struggled to find an effective starting lineup and has taken a step backwards on both offense and defense.
President of basketball operations Leon Rose has exercised patience every step of the way since taking the reins in the Knicks' front office, so I wouldn't count on him to sacrifice a handful of valuable draft assets to try to acquire players who can turn things around immediately. It's equally unlikely that he'll throw in the towel on this season and start selling off players for picks.
While any major changes can probably wait until the offseason, something's got to give with the current roster. The mix of players isn't right, and even with Derrick Rose sidelined, the rotation is too crowded for Tom Thibodeau to find regular minutes for Cam Reddish after the front office surrendered a protected first-round pick to get him. Some sort of consolidation trade may be in the cards.
Top trade candidates: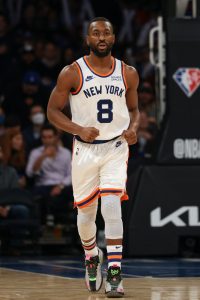 Kemba Walker's New York homecoming was a great offseason story, but it hasn't been a success on the court. Walker isn't the same offensive player he was in his prime before chronic knee injuries began to slow him down, and he's never been an above-average defender. He's on the trade block, but his multiyear contract doesn't have positive value.
The same is probably true of another free agent the Knicks signed in the offseason — Evan Fournier has $37MM in guaranteed money owed to him for the two seasons beyond this one, and while that's hardly an albatross, it's not a bargain for a player whose offensive production has been inconsistent and who also isn't a plus on defense.
New York would likely have more success shopping Alec Burks – whose $10MM annual salary is a solid value, given his contributions – and Mitchell Robinson, whose athleticism and rim-protecting ability makes him an intriguing prospect even with unrestricted free agency looming.
While the Knicks moved on from Kevin Knox in the Reddish deal, I'd be a little surprised if the team was willing to trade a more recent first-rounder like Obi Toppin or Immanuel Quickley. Still, Toppin continues to play a pretty modest rotation role and New York has received inquiries on Quickley, so it's certainly not inconceivable.
---
Philadelphia 76ers
Trade deadline goals:
On the surface, the Sixers' deadline goal is the NBA's easiest to identify: they want to move Ben Simmons.
But it's not quite that simple. More and more reports in recent weeks have suggested that president of basketball operations Daryl Morey is willing to extend Philadelphia's standoff with Simmons beyond the trade deadline and into the 2022 offseason, when the club hopes that more star players will be available and a wider variety of trade scenarios could be on the table.
Are they posturing? Maybe! But if that's the case, we should start hearing pretty soon about Simmons trade talks getting more serious. Instead, at least one team (Sacramento) that looked like a serious suitor has pulled out of the discussions, at least until the Sixers lower their asking price — and there's increasing skepticism that will happen by February 10.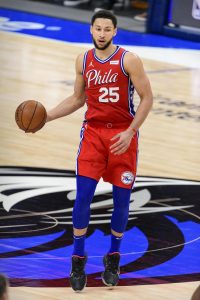 It may seem like managerial malpractice to not take the best offer available for Simmons in order to immediately upgrade a roster that could be a serious threat to come out of a wide-open East. But the 76ers want to make sure they maximize the value of their best available trade chip and make themselves contenders for years to come, rather than chasing short-term success.
Top trade candidates:
If Simmons stays put, it's unclear what other moves the Sixers might have up their sleeves. Players like Tobias Harris, Matisse Thybulle, Isaiah Joe, and Paul Reed have been mentioned in trade rumors, but only when tied to Simmons-related scenarios. It's not out of the question that the team holding the biggest trade chip could make it through the deadline without making a single deal.
The 76ers do have draft picks available that could be used in non-Simmons trades to upgrade the roster. But they've committed their 2025 first-rounder to Oklahoma City, limiting their flexibility to some extent.
Plus, if the team is truly focused on trading Simmons in the offseason for a player like James Harden or Bradley Beal, it may want to hang onto its top draft assets to use as sweeteners in those scenarios.
---
Toronto Raptors
Trade deadline goals:
Raptors president of basketball operations Masai Ujiri hasn't been shy in the past about making major trades at the deadline when he feels that his team is missing a piece. He acquired Serge Ibaka and P.J. Tucker in separate deals in February 2017; two years later, he landed Marc Gasol.
Those Raptors teams were closer to title contention than the current group — much closer, in the case of 2019's squad, which eventually won a championship. Still, Toronto's 2021/22 roster has an obvious hole at center that Ujiri will certainly be looking to address at the deadline.
I'd be shocked if Fred VanVleet, OG Anunoby, Pascal Siakam, Scottie Barnes, or Gary Trent Jr. go anywhere in the next 10 days, but no one else on the roster will be off-limits as the club goes shopping for a reliable option at center and perhaps a backup point guard.
Top trade candidates:
Goran Dragic appeared in just five games for the Raptors before being granted permission to leave the team and await his fate — his $19.44MM expiring contract will be a useful salary-matching tool in the right deal. Still, while teams would be interested in Dragic as a lower-cost target on the buyout market, he won't have positive value at his current number, so Toronto will probably have to attach players or draft assets to get something worthwhile in return.
Earlier in the season, when he was struggling to produce and moving in and out of the rotation, Chris Boucher looked like a prime trade candidate for the Raptors. However, he has played better lately, so I wouldn't expect him to be on the move unless he has to be included in a deal that improves Toronto's roster.
I imagine the Raptors would be willing to discuss 2020 first-round picks Malachi Flynn and Precious Achiuwa, who haven't taken the steps forward this season that the club had perhaps hoped for. Flynn is 23 years old and Achiuwa is just 22, so rival teams may see untapped potential in the duo.
The Raptors have traded away a couple future second-round picks, but own all their first-rounders and almost certainly would have to give up at least one of them if they want to acquire an impact center without moving one of their five core players.