With less than two weeks to go until the NBA's 2022 trade deadline, the Kings have ended their pursuit of Sixers star Ben Simmons and have shifted their focus to other trade targets, reports Adrian Wojnarowski of ESPN.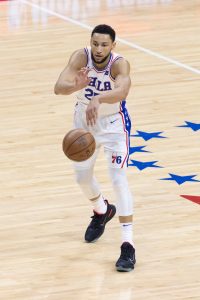 Sacramento has long been considered one of the most realistic destinations for Simmons due to a combination of the Kings' assets, roster construction, and a desire to shake up their squad in the midst of another disappointing season. However, according to Wojnarowski, the Kings believe Philadelphia's asking price for Simmons is too high and that there's no viable path to a deal.
One report last week suggested Simmons was "front and center" in Sacramento's deadline plans, while another stated that the Kings might be willing to offer Tyrese Haliburton, Buddy Hield, Harrison Barnes, and two future first-round picks in exchange for Simmons, Tobias Harris, and Matisse Thybulle. However, there was a belief that even that package wouldn't be enough for Philadelphia.
Subsequent reporting indicated the Kings want to build their roster around Haliburton and De'Aaron Fox and weren't interested in taking back Harris in a Simmons deal, which significantly diminished their odds of putting together an offer Philadelphia would accept. The 76ers, led by president of basketball operations Daryl Morey, have said for months that they want a star player in return in return for Simmons and aren't inclined to accept a package of role players and draft picks.
With Simmons no longer in their sights and no apparent desire to move Haliburton or Fox, the Kings will continue to shop players like Buddy Hield, Harrison Barnes, Marvin Bagley III, Tristan Thompson, and Richaun Holmes as they look to reshape their roster. Sacramento entered the season with playoff aspirations, but currently has an 18-32 record and ranks 13th in the West.
Sources tell Jason Anderson of The Sacramento Bee (Twitter link) that the belief within the organization is that the current state of affairs is "unacceptable," so Sacramento is expected to remain active and aggressive in trade discussions leading up to February 10. The Kings have been linked recently to the Pacers' two centers (Domantas Sabonis and Myles Turner), as well as Pistons forward Jerami Grant.
The Sixers, meanwhile, seem increasingly willing to extend their standoff with Simmons into the offseason, as we've written multiple times today alone.
According to Wojnarowski, Philadelphia still believes a deal could be made in the next two weeks, but the club also thinks a wider range of options could be available in the offseason, including perhaps stars like James Harden and/or Bradley Beal.