After winning his first Most Valuable Player award in 2020/21, Nuggets star Nikola Jokic was even better in '21/22. And he had to be — with guard Jamal Murray sidelined while recovering from an ACL tear and forward Michael Porter Jr. on the shelf due to back surgery, Denver was missing two of its top three scorers for nearly the entire season.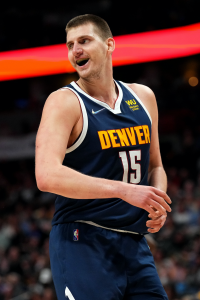 Given the absences of those two key players, it should have been a lost season for the Nuggets, but Jokic was so good that you got the sense the team still had a chance to make some noise in the playoffs if Murray and Porter could make it back.
Unfortunately, time eventually ran out on the Nuggets' season before Murray and Porter were ready to return, and despite Jokic's heroics – and his second consecutive MVP trophy – the club just didn't have the pieces to keep up with the eventual Western-champion Warriors in the first round of the playoffs.
---
The Nuggets' Offseason Plan:
Having a healthy Murray and Porter back in their lineup will go a long way toward turning the Nuggets back into a legitimate contender. But that doesn't mean the team should be content to sit back and view those returning stars as its offseason "additions."
Murray and Porter will make the Nuggets' offense more dangerous, but neither player is an above-average defender, so Denver is in need of one or two more wings who can defend (and ideally who can shoot too).
Newly-promoted head of basketball operations Calvin Booth will be tasked with finding those players, though he'll have limited resources to do so on the trade market. The Nuggets have given up two future first-round picks and four second-rounders without acquiring any extra picks of their own, reducing the team's ability to sweeten its offers with draft assets.
That means the Nuggets may have to dangle players like Will Barton, Monte Morris, and possibly Zeke Nnaji as they pursue defensive upgrades. All three are solid contributors on reasonable contracts, but Bones Hyland's emergence and Murray's return should help make at least one of Barton or Morris more expendable.
The Nuggets technically also have the ability to trade the No. 21 overall pick, though they'd have to wait until after the draft to officially move it, due to the rule preventing teams from leaving themselves without a first-rounder in two consecutive future drafts.
It won't bring back an impact player on its own, but attaching the No. 21 selection to some combination of Barton, Morris, and/or Nnaji would be enough to open up some intriguing possibilities for Denver. On the other hand, the Nuggets' roster is getting expensive and adding a low-cost rookie could help keep their tax bill in check, so perhaps they'll hang onto this year's first-rounder or attempt to move back into the second round rather than trading out of the draft entirely.
Booth and his basketball operations team will have several decisions to make on free agents, including DeMarcus Cousins, Austin Rivers, and Davon Reed. Cousins played well as a backup center behind Jokic and helped bring some toughness to the second unit — I'd expect Denver to try to re-sign him, as long as no other clubs offer him a sizeable raise. The Nuggets only have his Non-Bird rights.
Rivers' and Reed's futures could be tied to the Nuggets' other roster moves. They've shown they're capable of playing rotation minutes, but they'll be pretty low on the depth chart if Murray, Hyland, Morris, and Barton are all still in the mix and may seek other opportunities in that scenario.
The Greens – JaMychal Green and Jeff Green – could both reach free agency if they turn down their respective player options. I'd consider Jeff far more likely to test the market than JaMychal, given that JaMychal's option ($8.2MM) is the more expensive of the two and he's coming off a down year.
Assuming JaMychal opts in, the Nuggets could use his expiring contract to help salary-match in a trade, potentially opening up a larger role for Nnaji. Jeff's ability to knock down jump shots and guard multiple positions on defense makes him a valuable depth piece, but he's entering his age-36 season, so the team won't want to pay him too much more than his option amount ($4.5MM).
Jokic, Murray, and Morris are extension-eligible this offseason, but only Jokic is a sure thing to get a new deal — he and the team are expected to finalize a five-year, super-max agreement that will lock him up through the 2027/28 season. The timing probably isn't right for an extension for Murray, who hasn't played in over a year, or Morris, who would be ineligible to be traded for six months if he signs for more money or more years than extend-and-trade rules allow.
---
Salary Cap Situation
Note: Our salary cap figures are based on the league's latest projection ($122MM) for 2022/23.
Guaranteed Salary
Nikola Jokic ($33,047,803)
Jamal Murray ($31,650,600)
Michael Porter Jr. ($30,500,000) 1
Aaron Gordon ($19,690,909)
Will Barton ($14,375,000)
Monte Morris ($9,125,000)
Zeke Nnaji ($2,617,800)
Bones Hyland ($2,201,520)
Total: $143,208,632

Player Options
Team Options
Non-Guaranteed Salary
Restricted Free Agents
Facundo Campazzo ($4,000,000 qualifying offer / $4,160,000 cap hold): Early Bird rights
Vlatko Cancar ($2,228,276 qualifying offer / $2,228,276 cap hold): Bird rights
Total (cap holds): $6,388,276

Two-Way Free Agents
Draft Picks
No. 21 overall pick ($2,770,920)
Total: $2,770,920
Extension-Eligible Players
Note: These are players who are either already eligible for an extension or will become eligible before the 2022/23 season begins.
Nikola Jokic (veteran)
Monte Morris (veteran)
Jamal Murray (veteran)
Unrestricted Free Agents / Other Cap Holds
Bryn Forbes ($5,400,000 cap hold): Non-Bird rights
DeMarcus Cousins ($1,811,516 cap hold): Non-Bird rights
Troy Daniels ($1,811,516 cap hold): Non-Bird rights 2
Richard Jefferson ($1,811,516 cap hold): Non-Bird rights 2
Austin Rivers ($1,811,516 cap hold): Early Bird rights
Total: $12,646,064
Offseason Cap Outlook

With $143MM+ in guaranteed money committed to just eight players, the Nuggets are on track to go well beyond the projected luxury tax line of $149MM, so they'll be limited to the $6.4MM taxpayer mid-level exception unless they shed a contract or two.
Cap Exceptions Available
Taxpayer mid-level exception: $6,392,000 3
Footnotes
Porter's salary will be worth 25% of the salary cap. If the cap ends up above or below $122MM, this figure will be adjusted upward or downward.
The cap holds for Daniels and Jefferson remain on the Nuggets' books from prior seasons because they haven't been renounced. They can't be used in a sign-and-trade deal.
This is a projected value. The Nuggets could instead have access to the full mid-level exception ($10,349,000) and bi-annual exception ($4,050,000) if they remain below the tax apron.
---
Salary and cap information from Basketball Insiders and RealGM was used in the creation of this post.