The Pelicans' 2021/22 season began on a sour note, as the team revealed at the start of training camp that Zion Williamson was recovering from offseason foot surgery, then proceeded to get off to a 1-12 start in the regular season.
Williamson experienced multiple setbacks in his rehab process and ultimately sat out the entire season, but the Pelicans turned their year around without him. Steady production from vets like Brandon Ingram and Jonas Valanciunas, along with impressive contributions from rookies Herbert Jones and Jose Alvarado, helped New Orleans climb back into play-in contention by the trade deadline, at which point the club took a big swing and acquired CJ McCollum and Larry Nance Jr. from Portland.
Nance spent most of the rest of the season recovering from knee surgery, but McCollum thrived in New Orleans, emerging as the team's leading scorer in the second half and helping to lead the Pelicans to the play-in tournament, where they won a pair of do-or-die contests and earned the No. 8 seed. They even gave the 64-win Suns a scare in the first round, pushing the series to six games.
Given how well they played even without the former No. 1 overall pick available, the Pelicans have reason to be bullish about their future. With Williamson on track to return next season and an excess of valuable future draft assets – including this year's No. 8 overall pick – still available, New Orleans appears to be on the rise.
---
The Pelicans' Offseason Plan:
Few teams have as little work to do on their 2022/23 roster as the Pelicans. Of the 15 players who finished the season on standard deals with New Orleans, 14 are under contract for next season. The only free agent, Tony Snell, probably isn't part of the team's plans going forward.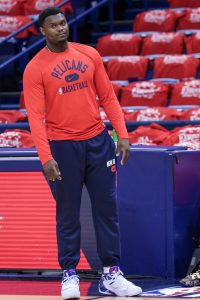 That doesn't mean the front office can just sit back and enjoy a lengthy summer vacation, of course. The Pelicans still have a handful of big decisions to make, starting with how aggressively to pursue an offseason extension for Williamson.
No player has ever turned down a five-year, maximum-salary rookie scale extension, and Zion probably won't become the first. But the Pelicans likely won't feel comfortable putting that offer on the table, even if Williamson's on-court performance warrants it. He has simply missed too much time due to injuries in his first three seasons for the team to be confident that he'll be healthy going forward. So it's no surprise that team ownership is reportedly reluctant to offer a fully guaranteed max deal.
The most obvious – and most frequent – comparison for Williamson is Joel Embiid, who signed a five-year, maximum-salary rookie scale extension with Philadelphia after appearing in just 31 games across his first three NBA seasons. That contract included injury protection language, giving the Sixers an exit ramp to waive Embiid and save nearly half his full guarantee if he continued to battle the types of injuries that sidelined him in his first three years.
On the surface, a similar arrangement makes sense for Williamson and the Pelicans. As long as Zion doesn't continue to suffer major injuries, there's no reason New Orleans would want to cut him, so he'd have a good chance to earn his full guarantee and max out his earnings. In the worst-case scenario, if his career is derailed by injuries, he could still potentially secure upwards of $80-100MM if the Pelicans are willing to guarantee half the contract.
As logical as that compromise may be, it's a fine line to walk for the Pelicans, who have heard whispers ever since drafting Williamson in 2019 that he might not want to remain in New Orleans long-term. While Zion himself has never suggested he wants to be anywhere else, the franchise won't want to risk alienating him by low-balling him in terms of guaranteed money.
There's no doubt that trade speculation will begin to heat up if the Pelicans and Williamson can't work out an agreement this summer, but the team should be prepared to exercise patience. Zion is under contract for next season and would be a restricted free agent in 2023, so New Orleans still controls this process. Unless Williamson makes a nuclear, Ben Simmons-esque trade demand, there will be plenty of time beyond this offseason for the two sides to find a resolution — and plenty of time for Zion to get back on the court and boost his trade value, if he eventually decides he wants out.
Outside of Williamson, three other Pelicans are eligible for extensions this offseason: McCollum, Nance, and Jaxson Hayes.
McCollum is under contract for two more seasons, so I wouldn't expect the club to approach those negotiations with tremendous urgency. I'd also be a little surprised to see Hayes get a new deal — he did well as a power forward alongside Valanciunas this season, but the team will still want to see how he fits in once Williamson is back, and his legal issues complicate matters. Nance could actually be the best candidate of the three for an extension, given his track record, his versatility, and his reasonable price point.
The Pelicans also figure to explore the trade market in search of an upgrade on the wing or in the backcourt. Devonte' Graham received a four-year commitment from New Orleans just last summer, but had an up-and-down season and saw his role change following the acquisition of McCollum and emergence of Alvarado. He'll likely be expendable in the right deal.
Of course, the No. 8 overall pick, which the Pelicans acquired from the Lakers, will be a fascinating asset to monitor. New Orleans should be able to secure a pretty talented prospect at that spot in the lottery if the team hangs onto the pick, but it would also be a valuable trade chip to attach to Graham and/or other veterans on the trade market.
My best guess for now is that the Pelicans would rather hang onto that pick and add one more promising youngster to their core while dipping into their stash of future first-rounders for any win-now trades. But if the right player is attainable on the trade market, the front office should be willing to let the No. 8 selection go.
---
Salary Cap Situation
Note: Our salary cap figures are based on the league's latest projection ($122MM) for 2022/23.
Guaranteed Salary
CJ McCollum ($33,333,333)
Brandon Ingram ($31,650,600)
Jonas Valanciunas ($14,700,000)
Zion Williamson ($13,534,817)
Devonte' Graham ($11,550,000)
Larry Nance Jr. ($9,672,727)
Jaxson Hayes ($6,803,012)
Garrett Temple ($5,155,500)
Kira Lewis ($4,004,280)
Trey Murphy ($3,206,520)
Willy Hernangomez ($2,443,581)
Herbert Jones ($1,785,000)
Naji Marshall ($1,782,621)
Jose Alvarado ($1,100,000) — Partial guarantee. Rest of salary is noted in non-guaranteed section below.
Total: $140,721,991

Player Options
Team Options
Non-Guaranteed Salary
Jose Alvarado ($463,518)
Total: $463,518
Restricted Free Agents
Two-Way Free Agents
Draft Picks
No. 8 overall pick ($5,434,920)
No. 41 overall pick (no cap hold)
No. 52 overall pick (no cap hold)
Total: $5,434,920
Extension-Eligible Players
Note: These are players who are either already eligible for an extension or will become eligible before the 2022/23 season begins.
Jaxson Hayes (rookie scale)
CJ McCollum (veteran)
Larry Nance Jr. (veteran)
Zion Williamson (rookie scale)
Unrestricted Free Agents / Other Cap Holds
Offseason Cap Outlook

With about $141MM in guaranteed salary on their books for next season (assuming Alvarado returns, which is a lock), the Pelicans will be far beyond the projected $122MM cap and are starting to approach the $149MM luxury tax line.
They'll have to keep that tax cutoff in mind when they consider possible trades and weigh how to fill their final roster spot. Simply bringing back their 14 players currently under contract and using the No. 8 pick on a 15th man would leave them with $2MM+ in breathing room below the tax line.
Cap Exceptions Available
Taxpayer mid-level exception: $6,392,000 2
Trade exception: $6,382,262
Trade exception: $1,786,878
Footnotes
The cap hold for Nunnally remain on the Pelicans' books from a prior season because he hasn't been renounced. He can't be used in a sign-and-trade deal.
This is a projected value. The Pelicans could instead have access to the full mid-level exception ($10,349,000) and bi-annual exception ($4,050,000) if they remain below the tax apron.
---
Salary and cap information from Basketball Insiders and RealGM was used in the creation of this post.