Alex Rodriguez is struggling to come up with his share of the money to buy the Timberwolves, according to business writer Josh Kosman of The New York Post.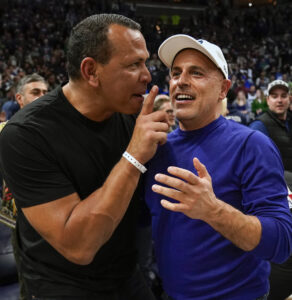 Rodriguez and Marc Lore were originally supposed to be equal partners in the $1.5 billion purchase, which included a $250MM down payment made in July of 2021. However, three sources tell Kosman that Rodriguez wasn't able to pay 50% of that cost and Lore had to cover the balance. That leaves Lore with about a 13% share of the team, while Rodriguez is at 7%.
Under the purchase agreement, the prospective owners are required to make their next 20% payment by the end of the year. Kosman's sources said Rodriguez continues to have difficulty raising his share, and Lore may eventually become the team's majority owner. "I wouldn't be surprised if A-Rod becomes a subservient No. 2 to Lore," one of the sources said.
Lore refused to confirm or deny the report, telling Kosman that he and Rodriguez still work together on all their decisions.
"I couldn't imagine having a better partner. He is one of my best friends," Lore said. "There is no one else I would rather be partners with than Alex."
A source familiar with both investors said Lore teamed up with Rodriguez in a failed attempt to buy the New York Mets in 2020 because he was "completely mesmerized" by Jennifer Lopez, whom Rodriguez was engaged to at the time. The star quality of Lopez created a lot of financial opportunities for Rodriguez, but those have disappeared since their breakup last year.
"His ability to raise capital went from strong to meaningfully weaker," one of Kosman's sources said. "J.Lo validated him."
Rodriguez is reportedly worth about $500MM, but sources say most of his assets aren't liquid and can't be easily transferred to cash that could be used to buy the Wolves. Kosman notes that NBA rules won't allow Rodriguez to become a partial owner unless he can cover at least 15% of the total purchase price without help from co-investors. That figure would be nearly $200MM with the team's debt factored in.
If Rodriguez and Lore make their next payment on time, they'll have the opportunity to buy an additional 40% from current owner Glen Taylor and take over control of the team by the end of next year. But a league source tells Kosman that Taylor won't be disappointed if the current arrangement falls through because he believes the franchise is now worth more than $2 billion and he can make more by selling it to someone else.