This is the second installment in our series examining players who are prime candidates for contract extensions. This series will explore the player's strengths and weaknesses, and will evaluate what a fair deal between the player and his team might look like. We're continuing today with a look at a player who was a key contributor to a championship team in 2022.
---
Rundown:
The 28th overall pick of the 2019 draft after two years at Michigan, Jordan Poole had a larger-than-expected role as a rookie due to major injuries to Warriors stars Stephen Curry and Klay Thompson. Unfortunately, he struggled mightily in his first pro season, appearing in 57 games (22.4 MPG) while averaging 8.8 PPG, 2.1 RPG and 2.4 APG on a ghastly .333/.279/.798 shooting line. His .454 true shooting percentage was last in the entire NBA, as was his -6.6 box plus/minus.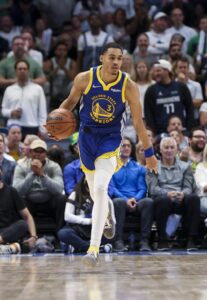 Things weren't much better for Poole during the first few months of his second season in 2020/21, appearing in just 15 of Golden State's first 36 games and receiving scant playing time (9.6 MPG). Since he wasn't getting much NBA run, he was sent to the G League in February 2021 to work on his craft.
Poole displayed a newfound confidence and looked like a completely different player upon his return a month later, emerging as a major spark-plug scorer off the bench. Over his final 36 games (23.5 MPG), he averaged 14.7 PPG, 2.1 RPG and 2.4 APG on .433/.354/.870 shooting (.579 true).
In year three, Poole built upon the foundation he laid during that strong second half surge, appearing in 76 games (30.0 MPG) while averaging 18.5 PPG, 3.4 RPG, 4.0 APG on .448/.364/.925 shooting. He started 51 of those contests in the backcourt alongside Curry.
Out of all guards who averaged at least 18 points per night, Poole ranked fifth in true shooting percentage at .598 – an excellent mark. His .925 free throw percentage led the NBA.
More importantly, he was also a standout performer in the postseason, averaging 17.0 PPG, 2.8 RPG and 3.8 APG on .508/.391/.915 shooting (.654 true) in 22 games (five starts, 27.5 MPG) during Golden State's title run.
Strengths:
Poole is an extremely shifty ball-handler who can create space for himself and teammates with ease. While he has a strong first step, what really separates Poole from other ball-handlers is how quickly he can change direction and how decisive he is – if he gains even a slight advantage, he goes straight to the hole.
Another element of Poole's ball-handling that's really impressive is that he has counter moves upon counter moves. He can string together a combination of intricate dribble moves in just a second or two, and even if the defender stops the first couple, he might unleash a crossover that leads them reaching on the third.
The 23-year-old is just as comfortable dribbling with his left hand as his right, and doesn't really show a preference, which makes it really difficult to try to guess which way he's going to go.
Poole isn't the most explosive athlete vertically, but he's very fast with the ball in his hands and excels in the open court. He's a talented finisher around the basket, converting 62% of his looks at the rim — an above average mark (55th percentile, per DunksAndThrees.com). Many of those shots are very high-difficulty attempts as well.
Poole is an excellent scorer from all over the court. While he didn't attempt many mid-rangers, he knocked down 46% of those looks (78th percentile). A big part of why he was so efficient is because the majority of his shots came either at the rim or from deep – he also gets to the line at a decent clip.
He employs side-steps and step-backs to create space for three-pointers, and 3.0 of his 7.6 attempts per game from deep came off the bounce, per NBA.com. He's slithery coming off screens, and he's very smart about using the screen a second time to free himself for a better look or a drive.
As with all of his teammates, Poole certainly benefits from all the attention Curry draws, but he's perfectly capable of scoring in bunches on his own. During the last 12 games of the regular season, when Curry was injured, Poole averaged 25.8 PPG, 5.0 RPG and 6.2 APG on .421/.374/.954 shooting (.586 true) and didn't look out of place as a primary option.
Poole is also a solid passer when he's so inclined, though he definitely has a score-first mentality – his 21% assist percentage was in the 80th percentile, per DunksAndThrees.com.
Improvement Areas:
Poole has been a below average defensive player to this point in his career, and in order for him to take another leap as a player, he needs to get better.
According to NBA.com, opponents shot 1.7% better than their expected field goal percentage with Poole defending them — the second-worst mark on the Warriors — and that's with the team trying to hide him on weaker offensive players. That figure rose to 4.7% better than expected in the playoffs.
Poole doesn't really excel at anything on defense. He isn't strong individually or as a help defender, and he doesn't force many turnovers (0.8 steal and 0.3 block per night).
Poole was definitely a beneficiary of having several strong defenders around him – the Warriors had the second-best defense during the regular season, and that was their main collective strength in winning the championship.
He's also a below average rebounder, pulling down just 3.4 per night, and at 6'4" he could stand to bump that number up closer to five, though it's something he's never been great at, even in college.
Another area of Poole's game that needs work is his decision making. His 1.39-to-1 assist to turnover ratio in '21/22 was quite poor for a high usage player, especially someone who handles the ball as much as he does.
Lastly, while Poole has very deep range and certainly doesn't lack in confidence, his 36.4% mark from three was only one percent above league average. If that number rises even a little bit, it would help his already very good efficiency.
Conclusion:
Poole's statistics last season were fairly similar to Tyler Herro's, and like Herro, I think Poole is almost certain to receive a nine-figure payday on his next contract. Since he was a late first-rounder, he has "only" earned a little over $6MM to this point. The prospect of receiving $100MM+, assuming the Warriors offer it, would undoubtedly be appealing.
When comparing Poole, Herro and the other young guards who set the market value this summer (Anfernee Simons, Jalen Brunson and RJ Barrett all received $100-107MM in guaranteed money over four years), I personally think Poole might have the highest upside. But that doesn't mean he'll get the most money of the group, particularly in a theoretical extension.
The primary reason the Warriors might be hesitant to give Poole a lucrative extension is that they're already a record-setting taxpayer, and they'd owe significantly more in taxes than the actual value of his salary. It would also lock in an extremely expensive roster for years to come.
There's an argument to be made that Poole is a luxury, not a necessity, especially with Thompson healthy for a full season – I don't buy that argument, but it's not entirely baseless. The front office might have to choose between paying just one or two of Poole, Draymond Green or Andrew Wiggins, and all were very valuable contributors last season who are good at different things, so it would be a tough call.
If Poole bets on himself and declines an offer for, say, $110MM — which would carry a good deal of risk since he doesn't have a long track record (plus injuries are always a concern) — there's a chance he could get a max deal as a restricted free agent in 2023, which is projected to be worth $142,975,000 over four years.