This is the first installment in our series examining players who are prime candidates for contract extensions. This series will explore the player's strengths and weaknesses, and will evaluate what a fair deal between the player and his team might look like. We're getting underway with a look at the NBA's reigning Sixth Man of the Year.
---
Rundown:
The No. 13 overall pick of the 2019 draft after one year at Kentucky, Tyler Herro made an immediate impact in 55 games (27.4 minutes) as a rookie, averaging 13.5 points, 4.1 rebounds and 2.2 assists on .428/.389/.870 shooting for a Heat team that came within two games of a championship. He had a strong playoff run in the Orlando bubble, bumping those averages up to 16.0 PPG, 5.1 RPG and 3.7 APG on .433/.375/.870 shooting in 21 contests (33.6 minutes).
Herro improved his counting stats during his second season in '20/21, averaging 15.1 points, 5.0 rebounds and 3.4 assists, though his efficiency declined slightly, with a .439/.360/.803 shooting line. As opposed to his strong postseason showing as a rookie, Herro, like the rest of Miami's roster, struggled mightily while being swept by the Bucks in the first round, averaging just 9.3 PPG, 3.3 RPG and 1.8 APG on .316/.316/1.000 shooting in four games (23.3 minutes).
Herro emerged as the league's most dangerous bench scorer last season, winning the Sixth Man of the Year award after appearing in 66 games (32.6 minutes) while averaging 20.7 points, 5.0 rebounds and 4.0 assists on .447/.399/.868 shooting. However, he once again struggled in the playoffs with defenses more focused on slowing him down, averaging 12.6 PPG, 3.9 RPG and 2.8 APG on .409/.229/.926 shooting in 15 contests (25.4 minutes).
Strengths:
Among players who officially qualified, Herro ranked 21st in the NBA in points per game last season. He is someone opposing defenses are forced to game-plan against.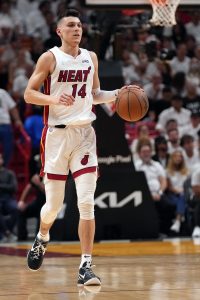 His primary skill is that he's an excellent shooter from all over the court, ranking in the 63rd percentile from mid-range, 87th on threes, and 87th from the free throw line, per DunksAndThrees.com.
The threat of Herro's shooting creates space for teammates, which is really important for a Heat team that struggles at times to space the floor. For as valuable as they are at basically every other aspect of basketball, neither Jimmy Butler nor Bam Adebayo is a three-point threat, so Miami's offense can be a bit crowded at times, especially in half court settings.
Herro isn't just a shooter either, as he shows some impressive play-making chops at times. He's capable of creating high-quality looks for himself and others on both scripted plays and on the fly.
He posted a 21% assist percentage last season, which was in the 79th percentile of all players. He has good vision and is capable of making difficult one-handed cross-court passes, though he definitely looks for his own shot more often than not.
Herro is capable of acting as a lead ball-handler in spot minutes, and while he isn't the greatest decision-maker yet (1.5-to-1 assist-to-turnover ratio), he shows flashes of being able to handle those duties. He's also a solid rebounder, especially on the defensive glass, with a 15% defensive rebounding rate (59th percentile).
Improvement Areas:
Physical limitations will likely always be an issue for Herro, which is something that's mostly out of his control. Though he has decent height for a shooting guard at 6'5", his wingspan is only 6'4", he isn't the greatest athlete, and he isn't the strongest player, leading to him getting pushed around at times.
Those limitations show up in two key areas. The first is that he's a below-the-rim finisher, and while he has good touch on floaters, he rarely gets all the way to the rim.
According to Basketball-Reference, only 13.7% of Herro's shots came within three feet of the basket, compared to 27.9% of his looks from 10 feet to the three-point line. He prefers to shoot pull-ups rather than initiating contact in the paint.
The fact that he attempts so many mid-rangers and doesn't get to the line a ton hurts his overall efficiency (of the 27 players who qualified for the scoring title and averaged at least 20 points, Herro was 25th in free throw attempts). His true shooting percentage (56.1%) was a little below league average (56.6%) last season.
The second area that Herro really needs to improve upon is his defense, which has been particularly problematic in the playoffs. He has been repeatedly targeted as a weak defensive link in each of his three postseason trips.
Opponents shot better (45.7%) than expected (44.8%) with Herro defending them in the regular season, and that gap grew during the playoffs (rivals shot 48.9% versus 46% expected), per NBA.com. And that's with Herro coming off the bench and the Heat trying to hide him on the opposing teams' weakest offensive players.
Out of 67 players who averaged at least 32 minutes and appeared in at least 30 games, Herro ranked 62nd in deflections per game with 1.2. He rarely draws charges, and averaged less than one stock (steals plus blocks) per game last season, which is quite poor (0.7 SPG and 0.1 BPG). His steal percentage (1.0%) ranked in the 21st percentile of all players, and his block percentage (0.4%) was in the ninth percentile, per DunksAndThrees.
Conclusion:
Young players are inherently polarizing because they are not finished products. When you watch them play, you're ideally looking for positive traits that can be translated into future success, but it's easy to lose sight of that if they're on a good team and play a big role.
That's especially true of Herro, even if it's a little unfair to someone who's still only 22 years old. More than most former first-round picks still on their rookie deals, Herro is an eye-of-the-beholder player due to his distinct strengths and weaknesses, some of which have been put under a bigger spotlight because of his team's success.
Anfernee Simons set the market for emerging young guards this summer with a four-year, $100MM deal as a restricted free agent. That's probably Herro's floor for his next contract.
If the Heat believe Herro will continue improving and is worthy of a significant long-term investment, I could see him exceeding RJ Barrett's deal with the Knicks, which is reportedly worth $107MM guaranteed over four years with unlikely incentives pushing it up to a possible $120MM.
If they want to continue to keep their options open and possibly deal him during the season, the Heat would be wise not to extend Herro to avoid the "poison pill provision," which would make trading him extremely difficult. Miami would still have the ability to match any offer he might receive as a restricted free agent in 2023.
The risk of not extending him, assuming his agents are open to accepting less than a maximum-salary deal right now, is there's a non-zero chance he gets a max as a restricted free agent next summer. A four-year maximum contract from a rival team is projected to be worth $142,975,000.
Giving Herro around $30MM a year would lock in an expensive core of Butler, Adebayo, Herro and Kyle Lowry for at least the next two seasons (Lowry is a free agent in 2024). Having said that, extending Herro now could make moving him in the 2023 offseason easier for the Heat in some ways – he'd already be trade-eligible, and his larger contract would make salary-matching for another star less tricky than it is on the end of his rookie deal.